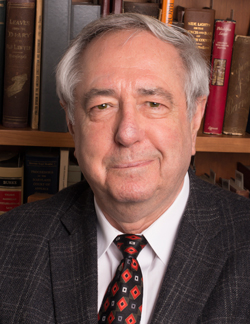 PROFESSOR RETT LUDWIKOWSKI is the founding director of the Summer Law Program in Cracow, created in 1992. Professor Ludwikowski holds doctorate degrees in law and legal and political theory. Until 1982 he taught law and politics and held the chair of Modern Legal and Political Movements and Ideas and was the chairman of the Division of Law and Business at the Jagiellonian University in Cracow, Poland. After coming to the United States in 1982, Dr. Ludwikowski continued his research work, while holding several visiting scholar and visiting fellow positions, including the USICA Program, U.S. State Department (1981), The Heritage Foundation (1981), Elizabethtown College, PA (1982-1983), and the Hoover Institute, Stanford University (1983). He was also a recipient of a Fulbright Scholarship (1997) and the residential Fellowship of Max Planck Institute in Hamburg, Germany (1989). He came to The Catholic University of America in 1984 and has been a professor of law at the Columbus School of Law since 1985. Dr. Ludwikowski served as the director of the Comparative and International Law Institute since the institute's inception in 1985 to May 2015. From 2001 to 2003, he was the managing editor of Comparative Human Rights and Fundamental Freedoms, a multi-volume publication of Oceana Publications, Inc.
Professor Ludwikowski has authored more than 20 books, including his most recently published books: History of Polish Legal and Political Ideas, Wolters-Kluwer, 2012; International Trade (Handel Miedzynarodowy (3nd ed. enlarged and updated) C.H. Beck 2012; and, Presidential Elections in the U.S.A. in Comparative Perspective (Lexis/Nexis, 2009) (with Anna Ludwikowski).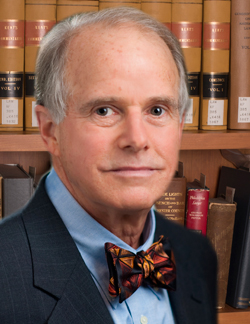 PROFESSOR DAVID A. LIPTON teaches securities regulation, corporate finance, and corporations. He also is the director of the Law School's Securities Regulation Program. Professor Lipton received his B.A. degree from Cornell University and an M.A. in public law and government from Columbia University. Before going on to Michigan University law school, where he received his J.D., he worked as a public relations specialist for New York City's anti-poverty program.
At law school, he was admitted onto the Michigan Law Review. Upon graduation, he went to work with the New York firm of Debevoise & Plimpton where he practiced securities and corporate law.
He has been on the faculty of the law school since 1980. In that time, he has increased the school's securities offerings from one to nine courses. In addition, he has created numerous internships with regulatory agencies, private firms and associations. Professor Lipton created the Law School's Securities Program which offers a certificate in Securities Regulation.
He was also instrumental in forming and maintaining the school's active Securities Alumni Practice Group as well as the Student Securities Law Association and the Securities Regulation Moot Court Competition. Professor Lipton is frequently quoted in newspapers, radio and television in matters relating to securities market regulation, broker-dealer regulation, securities arbitration, insider trading, and the impact of technology on securities regulation.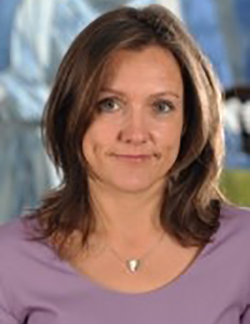 PROFESSOR EWA BAGINSKA
is the head of the Department of Civil Law at the Gdansk UniversityLaw School. In 1998-1999 and 2000-2001, Professor Baginska was a Visiting Scholar at The Catholic University of America Columbus School of Law. She is a fellow of the European Tort and Insurance Center in Vienna, Austria. Professor Baginska has published 6 books and over 140 articles, reports and book chapters in the area of civil law and comparative law. Her recently published books include 'Tort liability under uncertainty and complexity of causation. A comparative law study' [in Polish] (2013) and 'Damages for violations of human rights. A comparative study of domestic legal systems', Springer Verlag 2016 (editor). Professor Baginska has been a member of the Commission for the Codification of Civil Law, of the European Group on Tort Law, the International Academy of Comparative Law and the European Law Institute.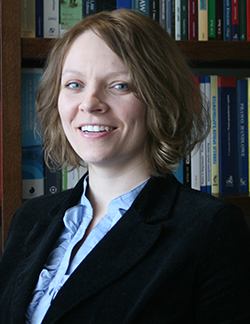 PROFESSOR MARTA JANINA SKRODZKA holds a doctoral degree in law and is an associate professor in Lomza State University of Applied Sciences and a Director for Podlasie Mediation and Arbitration Center established by the Chamber of Commerce in Bialystok (Poland). She teaches Corporate Law, Commercial Law, Civil Law, EU & US Corporate Law and ADR methods and was a Director of the Legal Clinic at the Faculty of Law, University of Bialystok for many years. Professor Skrodzka is the recipient of Senior Fulbright Award (2017) in residence at CUA Columbus School of Law as well as the Kosciuszko Foundation and PILI scholarship (2006) in residence at Columbia University School of Law to conduct research in USA.
She has 12 years of full-time teaching experience, both in English and Polish, of European and American students, is author and co-author of nearly 70 publications and was a guest speaker and active participant of more than 30 international, national conferences and lectures. Professor Skrodzka is a mediator, a trainer and an expert in ADR, Clinical Legal Education, Commercial and Corporate Law.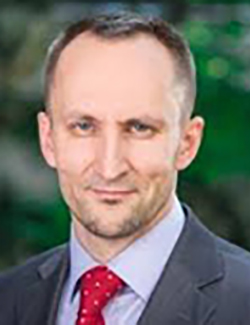 PROFESSOR PIOTR SZWEDO is an associate professor in the Department of Public International Law at the Jagiellonian University (JU). In 2007 he defended a doctoral thesis entitled Countermeasures in the law of the World Trade Organization. He also graduated from the School of French Law (Université d'Orléans/JU, 2002) and the School of American Law (Catholic University of America/JU, 2004). He was a Ford Foundation scholar at The Catholic University of America (2003), French Government Scholar at Univrsité d'Orléans (2004), SYLFF scholar at Columbia Law School and at Université Paris I Sorbonne (2005/6), Kutrzeba Scholar at Max Planck Institute of Comparative Public Law and International Law in Heidelberg (2006/2007) and Winiarski Scholar at Lauterpracht Centre for International Law, University of Cambridge (2012).
He was also a visiting lecturer at universities of Kobe (2010), Nantes (2012), Marburg (2012), Kaunas (2013), Orléans (2013, 2014, 2016), Paris Sorbonne University of Abu Dhabi (2016) and Macerata (2017). He also took part in research initiatives administered and/or funded by Polish National Scientific Centre, European Commission/University of Nijmegen and World Bank. His main area of research are international economic law, water law and legal aspects of global governance.
He published inter alia in Journal of World Trade, International Journal of Constitutional Law, Max Planck Encyclopedia of Public International Law and University of Denver Sports and Entertainment Law Journal. Currently he works on a monograph devoted to international water tradability and takes part in research projects about globalization, sovereignty, and injusticiability. Since 2012, he is the co-director of the School of French Law and since 2015 of the School of American Law, both at the JU.