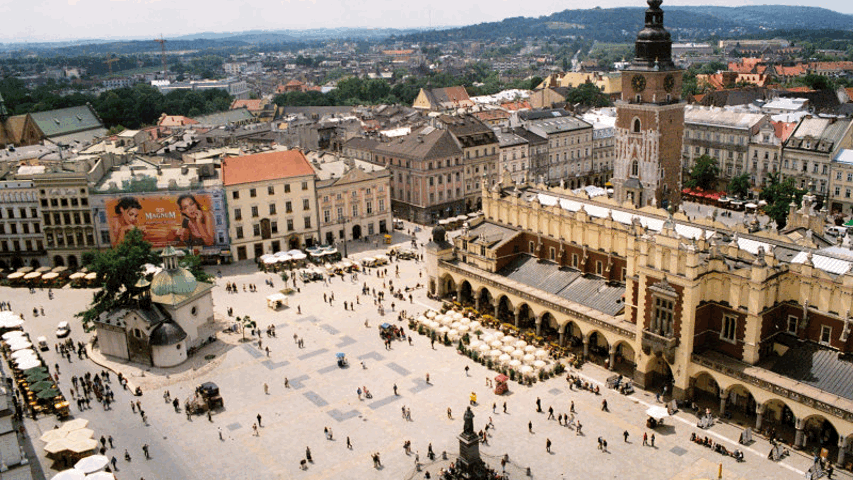 Catholic University's joint venture with the Jagiellonian University in Kraków provides students with intensive training in law of the European Union and global aspects of modern trade, comparative perspectives on regulated industries and antitrust laws in the U.S. and the EU, international business transactions, and other substantive areas of law, international business transactions, and other substantive areas of law. Classes are conducted in English at the 14th-century Jagiellonian University, one of the oldest and most prestigious universities in Europe. Unlike most summer abroad programs, a number of English-speaking law students from Polish universities also participate. The Polish and American students attend classes together and participate in all co-curricular activities together. This cross-cultural aspect of the Kraków program is unique and has resulted in many lasting friendships and business contacts.
June 24-25, 2022
Alumni Celebration in Kraków


On June 24-25, 2022, The Catholic University of America and Jagiellonian University celebrated UJ's awarding of the Zasluzony dla UJ medal to Professor Emeritus Rett Ludwikowski, the founder of the International Business and Trade Summer Law Program (IBTSLP), followed by the UJ Law Faculty's recognition of Ralph J. Rohner, Dean at the founding of Catholic Law-JU's cooperation and the certificate ceremony for 2019-20 and 2021-22 American Law Program graduates.

We also gathered with U.S. and international alumni of the IBTSLP at Catholic Law's Reunion Weekend September 30-October 2, in Washington, D.C. Please save the dates and reach out to classmates with whom you would like to gather in Washington, D.C., in September. For information IBTSLP 30th Anniversary and Reunion Weekend 2022, click here.

Please feel free to contact the individuals below with any questions.
CUA ALP & LL.M. Director Leah Wortham, wortham@law.cua.edu
IBTSLP Vice-Director, Paul Kurth, kurth@cua.edu
LL.M. Coordinators, Gaspar Kot, gaspar.kot@gmail.com & Luke Bartosik, bartosik.cua@gmail. com

For any questions about GDPR compliance please click here.
Kraków, a Historic University Town and a Major Center of International Business and Trade
Experience first-hand a country in transition. Ravaged by two world wars, Poland suffered tremendously throughout the course of the 20th century. World War II was particularly damaging, as Poland's historically strong Jewish population was almost wholly annihilated in the Holocaust. With the fall of the Third Reich, Poland effectively lost its independence once again, becoming a communist satellite state of the Soviet Union. By the turn of the 21st century, Poland was a market-based democracy, abundant in products of all kinds, and a member of both NATO (North Atlantic Treaty Organization) and the European Union (EU).
Krakow, an ancient royal city known for its architectural beauty and cultural heritage, was almost entirely spared the destruction of World War II. Krakow experienced significant globalization in the past 20 years, and today, is a city center with a thriving base for international businesses with a focus on outsourcing. Despite its growth as an emerging free market economy and European leader, Krakow retains its old world charm. Krakow's center, known as Rynek Glowny Market Square, spans approximately ten acres, and is by far the largest city plaza in Europe. The Rynek Glowny is teemed with busy cafes, clubs, restaurants, shopping, antiques and endless curiosities for locals and visitors to explore. As a city on UNESCO's World Natural and Cultural Heritage list, Krakow is one of Europe's vibrant masterpieces.
The Jagiellonian University
Catholic Law's International Business and Trade Summer Law Program is hosted in cooperation with the Jagiellonian University, which was founded in the 14th century and is one of Europe's most prestigious universities. It counts among its distinguished alumni the renaissance scientist Nicholas Copernicus and Pope John Paul II. The university's law faculty is regarded as one of the finest in Central Europe. With more than 40,000 students attending the Jagiellonian University, Krakow is in many ways the quintessential college town. During the summer, many students can be found at the university taking classes and working around the city. June and July are the busiest months in Krakow for cultural and music festivals, including historic and traditional religious celebrations, month-long jazz and opera music festivals, and numerous other theatrical and musical events happening almost daily in the market square.
I had never been to Poland before and wasn't sure what to expect. Not only did I learn a lot about comparative international law, I also discovered the beauty of the Polish culture and people. Thanks to the many memories and friendships made, I will always look back fondly upon my time in Poland. And I count the days until I can return again! - Andrea Bautista '10
Cultural and Professional exchange through international study
The Summer Law Program in Kraków—HIGHLIGHTS
Poland is an ideal setting for our summer law program with its focus on law of the European Union and international business and trade law. Students can build a summer experience of their choice by using the new flexible modular schedule that offers many options to organize one's summer abroad.


The academic program, scheduled from June 11 to July 12, 2023, features four two-credit courses: Law of the European Union, International Investment Law and two courses  which are being developed for the program. Students may take up to six credits from this selection of courses.


Optional externships with top law firms and other legal organization are available in Warsaw and Krakow. Externship are taken for academic credit and begin as early as May 15 through August 11. Students must enroll in the online course called Becoming an International Lawyer for one credit and in Legal Externship for one, two, or three credits to coincide with the number of hours of work at the placement. Students earn one credit for every 60 hours of work at the externship placement. Catholic Law students may satisfy a portion of the J.D. degree requirement for experiential learning by taking part in an arranged externship through the summer program.


Since the inception of the Program, Polish law students have participated in the program and they offer a unique comparative legal perspective. A strong alumni network is the outcome of the numerous personal and professional relationships forged between the Americans and Poles. We are grateful to our Polish alumni for providing externship placements for our American student participants.


The Kraków Summer Law Program from The Catholic University of America, is fully accredited by the American Bar Association.