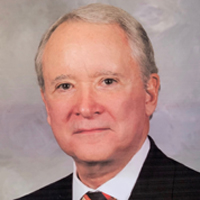 "As a third generation graduate of the Law School I grew up with the legal training and knowledge my father and grandfather acquired from their education at CUA Law. In addition, I found the CUA Law emphasis on its Catholic virtues to be more personally fulfilling and inspired my dedication to excellence in the practice of law and public service, specifically providing assistance for the less fortunate of our society, which I strived to fulfill in my practice, personally and professionally."
Clarence E. Martin III '74, "CEM" practiced law in the areas of complex litigation, insurance coverage issues, insurance defense litigation, railroad defense litigation (FELA), products liability and asbestos defense litigation in state and federal trial and appellate courts. He also lobbied on various issues, including insurance and civil justice reform. In addition, CEM is a former assistant counsel to the Interstate and Foreign Commerce Committee of the U.S. House of Representatives and Trial Attorney for the U.S. Department of Justice.
CEM was a Member of the West Virginia House of Delegates from 1976-82. He has taken leadership roles in a number of professional and business organizations in West Virginia and beyond. He has recently served as Chairperson for the West Virginia State Chamber of Commerce. In 1980 he was named one of the Top 50 legislators in the U.S. for his leadership and work. From 1988-1992, CEM served on the U.S. Commission on Agricultural workers, investigating and reporting on working and living conditions of farmworkers in the US. CEM has served as President of the West Virginia Bar Association from 1991-1992, and has recently been named to the Council on Litigation Management.
At the request of Sen Jay Rockefeller he created and chaired the Discover the REAL West Virginia Foundation and chaired it for 11 years. In that capacity he co-chaired with the Senator numerous trade missions of West Virginians to Japan and Taiwan resulting in the dramatic increase of companies from those countries in WV and numerous jobs. He is also a member of both West Virginia and ABA Bar Foundations.
CEM is a member of the Board of Directors for the Holy Family Hospital Foundation, which is the only hospital that provides neo-natal care in Bethlehem, Palestine. CEM is president of the Washington-Baltimore Chapter of the Patrons of the Arts in the Vatican Museums
One of the most important honors bestowed upon CEM was in 2014 when he was made a Knight of Saint Gregory the Great by Pope Benedict XVI. In 2000, CEM was invested in the Order of Malta as a Knight of Magisterial Grace. In 2003 and in 2004 he was invested as a member of the Order of the Holy Sepulchre and the Constantinian Order of St. George. These are among the highest honors a Catholic layman can receive in recognition of service to the church, community, and his profession. It is a particular honor to have been invested in all three of these Orders.
CEM has been named a Super Lawyer and was included in the list of Best Lawyers in America. He received an honorary doctorate from Shepherd University and he has worked with Professor Robert Destro on the Abrahamic Dialog of Cultures. CEM has served on the Columbus School of Law's Board of Advisors from 1992-2012.