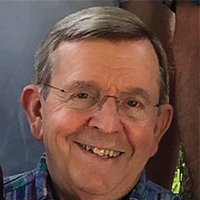 "I am immensely grateful to CUA Law and its faculty for the solid legal educational foundation they laid, the generous financial assistance provided, and the invaluable career guidance and placement assistance given. Within weeks of graduation, soon after starting work with a leading New York law firm, I was thrilled to be already participating in meeting with and providing legal advice to in-house lawyers and senior managers of large U.S. companies."
Mr. Farley retired as senior counsel of Exxon Mobil Corporation in 2007. Upon graduation from CUA Law in 1969, where he served as editor-in-chief of Volume 18 of the Catholic University Law Review, he commenced work as an associate at Sullivan & Cromwell in New York City. While at S&C he participated in providing advice to many of the firm's clients, including Standard Oil Company of New Jersey (renamed Exxon Corporation in 1973). Over time he was increasingly involved in a number of matters of importance to Standard Oil, and in 1973 he accepted an unsolicited offer from Exxon's general counsel to join its New York headquarters law department.
During the course of Mr. Farley's 34-year career with Exxon (which via merger became ExxonMobil in 1999), he was assigned to offices in New York City; London, England; Rome, Italy; Florham Park, NJ; and Fairfax, VA. The vast bulk of his legal work concerned Exxon's interests in countries other than the U.S., and broader international issues. His work sent him traveling to many countries around the world. The work's nature varied considerably over the years, and sometimes involved unique issues that had never arisen before. Some examples are: 1) acquisition and divestment of companies and facilities, and related competition law reviews; 2) seeking compensation for nationalized and government-confiscated properties; 3) internal and governmental investigations of alleged corruption of foreign government officials (including entry into a consent decree later used as a model for the 1977 Foreign Corrupt Practices Act); 4) supply of fuel to U.S. and NATO forces outside the US.; 5) legal oversight of joint venture storage and aircraft refueling operations at major airports globally outside the U.S., and fuel supply arrangements with major airlines globally; and 6) extensive work 1999 – 2002 to help accomplish and implement the world-wide Exxon-Mobil merger.
Mr. Farley has served as a member of the Columbus School of Law's Board of Visitors since his retirement from ExxonMobil in 2007. From 2010 to 2013 he served as the board's chair. In 2011 he served on the University President's search committee for a new university general counsel, and from 2011-2012, he served on the President's search committee for a new dean for the Law School. He has been a very generous donor to CUA Law and he and his wife Jo-Ann, whom he met during his third year at CUA Law when she was a senior in the university's Drama Department, reside in North Caldwell, NJ.