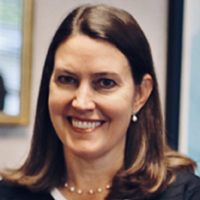 "I loved the physical beauty of the campus, including the historic buildings and the Shrine, but what I focus on most as an alumna is the faculty. They saw something in me that I did not see in myself, and then gently steered me into a career path that matched my talents and led me directly to where I am today. I am forever grateful to the faculty for the education and encouragement I received at CUA."
Elizabeth M. Timothy received her J.D. degree from the Catholic University of America in Washington, D.C. in 1989, and her undergraduate degree, a B.S. in Business Administration, from Louisiana State University, in 1985. She was appointed to serve as a United States Magistrate Judge for the Northern District of Florida in 2004. She was reappointed in 2012 and is currently serving her second, eight-year term. In 2012 Judge Timothy became the Chief Magistrate Judge for the Northern District of Florida and has served continuously as such since 2012. As a magistrate judge she handles criminal and civil matters, but her caseload is predominately civil and includes civil cases upon consent of the parties and, in non-consent cases, discovery disputes, settlement conferences, and other miscellaneous matters.
Prior to her appointment, Judge Timothy served as a state and federal public defender. She tried more than 100 jury trials to verdict on a wide variety of charges including murder, rape, and other violent offenses; firearms and weapons offenses; drug conspiracies; and mail fraud, wire fraud, and other white collar crimes. She achieved Board Certification as a Criminal Trial Attorney and attained an "AV" Martindale-Hubbell® Peer Review rating.
Judge Timothy was, and now is, active in local and statewide bar associations and currently serves as the president of the Pensacola Inns of Court. She has also chaired committees of the Federal Magistrate Judges Association and currently serves as the Magistrate Judge Representative on the Judicial Council of the United States Eleventh Judicial Circuit. She has presented at various conferences and seminars on a range of topics including expert witnesses, discovery, cross-examination, and settlement conferences.