June 23, 2020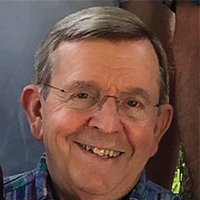 Can you tell us a little bit about your background?
I was born in upstate New York and grew up there and in New Jersey. I went to undergrad school at Catholic U. where I majored in English. I was editor-in-chief of the undergraduate newspaper, The Tower. After graduation, I taught high school English for a year and worked summers as a reporter for newspapers in New Jersey and Virginia before I started law school at Catholic.
Why did you decide to attend Catholic Law?
Well, that was easy—because I was offered a full scholarship that covered my room, board, and tuition. I thought that it would be more broadening to go to law school elsewhere, but money is always a consideration, so I stayed at Catholic, and I certainly have had no regrets.
How did you know you wanted to continue to pursue law?
I only decided to do so after college graduation. While a college senior, I wanted to become a journalist, but having subsequently worked as a journalist, and also as a high school teacher, I came to know that the remuneration outlook in each of those professions was not terribly good. While high school teaching, I was sharing an apartment with a friend who was a third-year student at the Law School, and he helped me realize that going to law school was something that I always wanted to do, but just didn't know it yet. He taught and inspired me, he gave me books to read, he got me very interested in the law. So, I was I think well prepared and motivated to study by the time I began classes as a member of the initial first-year day class at the new Law School building, Leahy Hall, in 1966.
Can you discuss your early career development?
I've only had two employers my entire legal career: the law firm I started with and the corporation I ended with. Upon graduating in 1969, I began work as an associate at Sullivan & Cromwell in New York City. Over time, I was increasingly involved in a number of matters of importance to Standard Oil (NJ) (renamed Exxon Corporation in 1973), and in late 1973 I accepted an unsolicited offer from Exxon's general counsel to join its then-New York headquarters law department.
I spent the next 34 years of my career at Exxon (which became ExxonMobil in 1999) and over time was assigned to offices in New York City; London, England; Rome, Italy; Florham Park, New Jersey; and Fairfax, Virginia. Most of my work concerned Exxon's interests in countries other than the U.S., and broader international issues which took me to many different countries.
Are you where you expected to be at this stage of your career?
Yes, in retirement, where I've been for almost 13 years now. One of the things that I've especially enjoyed doing since retiring in 2007 is having then become a member of the Board of Visitors at the invitation of then-Dean Veryl Miles. I've served on the Board ever since. I was Chair of the Board from 2010 to 2013. While Chair, I also served on the University president's search committees for a new University general counsel, and for a new dean for the Law School. I have not engaged in any legal activities for hire since I've retired, but I continue my New York Bar and New York State and City Bar Association memberships.
What were/are the most rewarding parts of your job? What were the biggest challenges?
I was practicing law for almost 40 years, so there were many things too numerous to mention. One of the things I enjoyed very much was the opportunity I had for travel—including living outside the United States. I met a lot of interesting people in far-away places, and I worked with a lot of very able in-house and outside counsel and corporate executives around the world. It was a very rich experience.
The largest challenge was the Exxon-Mobil merger, which involved combining ownership interests in over 100 countries, seeking pre-merger clearances in the dozens of countries that required them (and implementing required divestments), and dealing with a myriad of other legal issues. There were hundreds of other in-house and outside lawyers also involved with different aspects of the merger; my own responsibilities kept me occupied more than full time for over a year and one-half and part-time for several years.
What advice would you give to young lawyers or law students who have similar legal aspirations?
To those students interested in careers in multinational business law, I recommend obtaining a good understanding of the portions of the following systems that affect the conduct of such business: (a) international laws and treaties; (b) foreign and comparative substantive and procedural law and the different types of legal systems, such as civil law, in which they prevail; and (c) national and regional business trade laws regulations such as competition laws, customs and duties laws, and trade restrictions.
Do you have a favorite memory from Catholic Law?
My favorite memories are mostly from working on the Law Review, especially during the year I was editor-in-chief. The other members of the editorial board and I practically lived in the Law Review office, which was one large room. No electronic office tools had been invented yet, except for the recently commercialized photocopy machine which eliminated the need to make carbon copies. We had no paid clerical assistance, so we were all constantly typing and retyping, using the hunt and peck system. Needless to say, we all laughed and moaned a lot and got to know each other pretty well, including each other's good and bad habits. Part of what makes Catholic Law so special is the community and the people it represents.
Is there any relationship from your time here (a professor, lecturer, staff member) that was particularly impactful to you?
The most memorable professor I had was Ralph Rohner. He was my Commercial Transactions professor in my second year. He was also advisor to the Law Review, but during my term as editor-in-chief, we didn't see all that much of him since he was also Acting Dean of the school for the same period. But I did get to know him and his wife and children very well and I continue a friendship with them today. I had the pleasure of working again with Ralph when I was Chair of the Board of Visitors. Dean Miles had asked Ralph to be the acting Director of the Development Office, so Ralph and I spent a lot of time together preparing for Board meetings and other activities, working on finding ways to strengthen the Board, and identifying alumni who would be good candidates to become significant donors to the school.
Then there was the indomitable Arthur John Keeffe, whom I had for Anti-Trust. He encouraged me to go to New York after I graduated and join one of the large New York law firms. I had been thinking of continuing in academia somewhere to obtain an advanced law degree somewhere. He told me "the best place to get an advanced degree in law is not to get a school degree, but to go to work for one of these large law firms and you'll learn more there than you'll ever learn by getting an advanced law degree."
Another was Father Al Broderick, who taught an interesting seminar called Legal Process that he designed himself which I took in my second year. I remember it as the most interesting course I took while at the Law School. Toward the end of my second year, in Spring 1968, after the assassination of Martin Luther King, Jr., the city of Washington erupted. Thousands of alleged rioters were arrested. The DC Armory had been turned into a courthouse and the adjacent stadium a jail for those arrested. On the second evening of the civil disturbances, Father Broderick wanted to go down to the armory so he could volunteer as counsel for people being arraigned there. I drove him there, white knuckles all the way there and back. We went into one of the crowded ad hoc courtrooms. As each accused person entered, the arraigning judge said, "Is there anyone who will volunteer as counsel for this person?" And Father Broderick said, "I will" and kept saying, "I will" until he had volunteered to represent well over 100 accused. Finally, the judge said, Father, I think you have enough now, let's leave some for the other lawyers."
Who have you kept in touch with from school?
Well, of course, Ralph Rohner. And I got to know Dean Dan Attridge pretty well during the dean search process that ended up selecting him, and while I was, as Board of Visitors Chair, helping to orient him in his new job. And I am getting to know our new dean, Steve Payne, as time goes on, through my work on the Board of Visitors.
I have been working with Jean Emery since I joined the Board of Visitors. She has been my "go-to" person if I ever have a question about anything - she always knows the answer. And then, of course, there is Joan Vorrasi. Joan joined the Law School staff as far back as when I was a student, and we have been involved in various things together over the years. I look for her when I am at the Law School to say hello.
There are classmates as well, not just classmates, but students who were in other classes while I was at the school, that I've tried to stay in touch with. Unfortunately, hardly anyone lives nearby, so I'm more likely to see them at law school events than anywhere else. I did have the good fortune, at our 50th class reunion last year, to see some old friends who were classmates, and it was good to meet again.