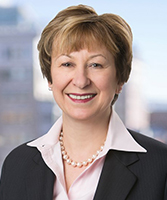 "My professors at CUA Law taught me not just theoretical principles of law, but how to find practical and workable solutions to thorny legal problems. Those practical approaches have served me well in representing clients in my years of private practice as well as my tenure as a government lawyer. I also made several very close and life-long friends in law school, whose love and support I treasure every day."
Having practiced in the government contracts arena for over 35 years, Agnes Dover has vast experience guiding clients in the national security, energy, and information technology sectors through the maze of acquisition regulations. Dover has worked with clients to respond to government audits and investigations, advised on compliance programs, negotiated prime-subcontract agreements, obtained government contract approvals in connection with M&A transactions, and advised on various federal technology transfer programs. When government enforcement agencies target clients for investigations, she advises them on suspension and debarment and how to avoid the potentially adverse consequences. Dover previously led the Hogan Lovells Government Regulatory practice group, comprised of 14 distinct regulatory practice areas. In this role, she served on the firm's International Management Committee. Before joining the firm, Dover served as deputy general counsel for Procurement and Technology Transfer of the U.S. Department of Energy. She chairs the Baldwin Wallace University Board of Trustees and serves on the Board of Visitors of the Columbus School of Law at Catholic University.
Dover's representative experience includes having advised foreign companies in the purchase of U.S. defense contractors, requiring establishment of Foreign Ownership Control and Influence Mitigation plan, handling corporate reorganization to enable the sale of dedicated government contracts subsidiary, advising a client on the negotiation of multi-million dollar subcontract for management and operation of Department of Energy facility, advising a foreign biotechnology client on a range of regulatory issues applicable for entry to U.S. Government market, and advising a professional services firm on compliance and security clearance requirements for establishing a subsidiary dedicated to federal business.