December 20, 2021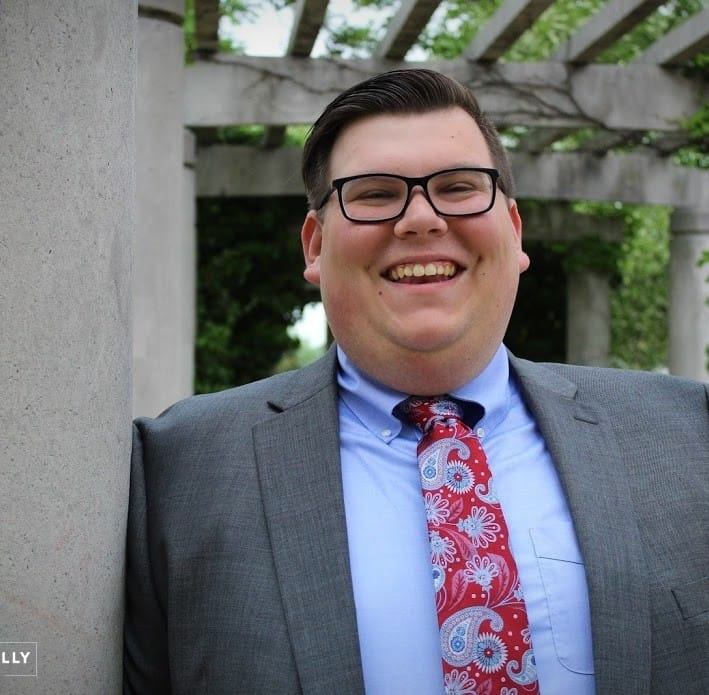 "Catholic has always felt like coming home to me." Catholic Law is committed to fostering strong bonds of community and for third-year law student Owen Salyers that was immediately apparent. Originally from Akron, Ohio, Salyers was used to Midwestern friendliness, so to find a school with such a genuinely friendly culture was very appealing to him. In his final year at the Law School, Salyers reflects on his time in law school and his contributions to the Catholic Law community.
Salyers first came to Catholic's beautiful, 176-acre campus in the Brookland neighborhood of Washington, D.C., not as a law student, but as an undergraduate. In the fall of 2015, the Double Cardinal was pursuing a dual degree in Civil Engineering and Architecture—ultimately dropping Architecture and graduating with a bachelor's degree in Civil Engineering in 2019. It was during his time in undergrad that Salyers developed an interest in the law. "I spent the summer in between my Sophomore and Junior years in England interning for the British Parliament—Sir David Amess—during a general election. I fell in love with the interplay of law and policy and decided to apply to law school."
Of course, with a law school available on the very same campus he had called home for the last four years, Catholic Law would seem like the obvious choice, but for Salyers, the decision to attend Catholic Law was about more than just convenience and familiarity. "During undergrad, I had the chance to attend a couple of events at the Law School and was able to see the type of education the Law School was offering, and it was appealing to me." Maintaining his academic momentum, Salyers opted to go straight into law school from undergrad.
Since joining the Catholic Law community, Salyers has been incredibly involved in student life on campus. When looking at his impressive resumé of co-curricular activities, it might be quicker to list what he isn't involved in as he holds multiple elected leadership positions and memberships. This year, he is President of the Saint John Paul II Guild of Catholic Lawyers, Vice President for Student Affairs for the Student Bar Association (SBA), Vice Chancellor for the Seigenthaler-Sutherland Competition for the Moot Court Association, and Marshall of Phi Alpha Delta. Salyers is also an Associate Editor of the Catholic University Law Review, a 3L representative for the Council on Professional Conduct, a Student Ambassador for the Office of Admissions, and a Dean's Academic Fellow.
With all that on his plate, one might think Salyers wouldn't have time for anything else—but he does. Salyers has a rigorous course load in the Law and Technology Institute (LTI) on the Intellectual Property track and he has also participated in externship and pro bono opportunities. In the fall of 2020, Salyers externed with Judge Holte in the Court of Federal Claims. Then, Salyers spent this past summer pursuing work in the public interest space. Salyers worked for the United States Army Legal Services Agency in their Contract Litigation and Intellectual Property Division through the United States Army Judge Advocate General Corps Student Volunteer Externship Program. As an intern, Salyers worked closely with the civilian and JAG attorneys to assist in the assembling of Agency Reports for Bid Protests at the Government Accountability Office. He also assisted in drafting filings for appeals before the Armed Services Board of Contract Appeals.
Given his extremely full schedule, Salyers has taken a proactive approach to maintaining a sense of work/ life balance. "I take weekends off from all things law school and make sure to spend ample time with friends going out and doing some fun activity—recently we went and cheered Catholic Football on at a home game." With the semester well underway, Salyers is eager to make the most of his remaining time at Catholic Law.