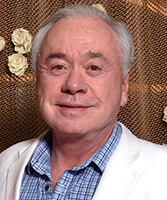 "One of the things I discovered after graduation was that most lawyers did not like law school. This was surprising because I felt the opposite. I came to realize that CUA Law was a different experience. My classmates, our relationship with the faculty, and the involvement of the administration all made learning law at CUA something special—something unique. It shaped my life and led to what successes I have had. I still look back 50 years later and think about the good fortune of having gone to CUA Law."
Mark Reinhardt is a founding partner in Reinhardt Wendorf & Blanchfield and is currently of counsel to the firm. Prior to forming Reinhardt Wendorf & Blanchfield, Reinhardt co-founded Reinhardt & Anderson in 1979. He is a 1971 graduate of Columbus School of Law, Catholic University of America, and recipient of the Reginald Heber Smith Fellowship in 1971 and again in 1972. The Fellowship allowed him to work in the area of significant class action litigation. He is admitted to practice in the Supreme Court of Minnesota and is a member of the bars of the Supreme Court of the United States, the Courts of Appeals for the Second, Third, Fourth, Sixth, Eighth and Ninth Circuits, the District of Minnesota, Eastern and Western Districts of Wisconsin and the District of Columbia.
For the last 40 years, Reinhardt has devoted a major amount of his practice to antitrust, complex commercial, and class action litigation. He has tried jury cases to verdict in several different areas of law, including class action/antitrust. He has taken an active role in numerous regional and national class actions and has served as lead counsel or a member of the executive committees of many of these actions. He has briefed and argued these cases at all federal levels, including the United States Supreme Court (H.J., Inc. v. Northwestern Bell, 109 U.S. 2893 (1989)). He has also been employed on a nationwide basis as a consultant on class action and RICO issues and has testified on the RICO statute before the U.S. Senate Judiciary Committee. For over ten years, Reinhardt's peers have named him a "Leading Minnesota Attorney" in antitrust litigation. Martindale-Hubbell has awarded him "AV Preeminent", the highest peer rating standard.
Reinhardt was an adjunct Professor of Law at William Mitchell College of Law and has taught many Continuing Legal Education courses in complex business litigation, racketeering, class actions, and antitrust. He is a member of the advisory board of the Civil RICO Report, a BNA publication. He has published in the areas of RICO and class action litigation. His writings include: Streich v. American Family: Anatomy of a Class Action, 12 Minn. Trial Law. 15 (Fall 1987); The Pattern of Pattern - Cases Post-H.J. Inc., 5 Civ. RICO Rep. 5 (March 6, 1990); The RICO Act, Public Utilities Fortnightly, July 1991; Coming out of the Trenches with RICO, (M.T.L.A. May 1992); Complex Commercial Litigation, (Business Torts, SC Bar-CLE Division, September 1994); When and How to Settle Class Actions (Minnesota State Bar Association CLE, March 1996); and Review of an Antitrust Class Action, (Minnesota State Bar Association CLE, November 1999); Management of the Large Case and Current Class Action Issues: Plaintiff's Perspective, (Minnesota Institute Legal Education, September 2000); Review of Nationwide Antitrust Practice (South Carolina Bankruptcy Association, February 2005) and Class Actions 101, Lunch & Learn (South Carolina Bar Association, June 2009); and Class Action 101, (Ramsey County Bar Association, February 2012).