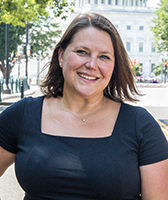 "Catholic University's Columbus School of Law has influenced every aspect of my career. CUA provided a strong foundation through its legal education, but the people - from my classmates to professors to alumni I've met post-graduation - are what really make Catholic stand out. I've always been able to engage in robust discussions and debates, which have challenged my perspective. It was in law school where I learned to disagree without being disagreeable, and this has helped me view issues in a holistic manner undoubtedly improving my work."
Kendra Kosko Isaacson serves as Senior Pensions Counsel to the Senate Committee on Health, Education, Labor and Pensions, where she advises Chair Patty Murray (D-WA) and other committee members on ERISA and all retirement-related issues. She is also a member of the Committee's Oversight Team where she assists with nominations and financial conflicts of interest. Isaacson also advises Senator Murray on Social Security and all tax-related matters.
Isaacson received her B.A. in Government from Dartmouth College, her J.D., with honors, from The Catholic University of America Columbus School of Law, and an LL.M in Taxation with a certificate in Employee Benefits from the Georgetown University Law Center. After law school, Isaacson was an Associate with Slevin & Hart, P.C. and also with Venable LLP in Washington, D.C. Before joining the HELP Committee, Isaacson worked in the Employee Benefits Security Administration at the Department of Labor where she worked in the Office of Policy and Research. Isaacson speaks frequently on retirement policy.