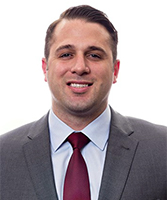 "The Columbus School of Law, particularly the Securities Law Program, provided me with foundational legal knowledge and practical skills that were - and continue to be - critical to my development as a lawyer. The sense of community at Catholic Law had a profound impact on me as a law student and the meaningful relationships developed with my classmates and with other Catholic Law alumni continue to be valuable to me personally and professionally."
James V. Catano has extensive experience counseling mutual fund complexes, investment advisers, and insurance companies on a wide range of securities, regulatory, corporate, disclosure, transactional, and other financial services matters. These matters include complex fund reorganization transactions, the preparation of registration and proxy statements, ongoing compliance and regulatory matters, and seeking exemptive, interpretive, and no-action relief from the U.S. Securities and Exchange Commission or its staff. Catano also advises clients on the development, regulation, sale, and administration of a variety of investment products, including open-end and closed-end mutual funds, money market funds, exchange-traded funds, and variable and fixed life insurance and annuity products. In addition, he advises boards of directors/trustees of U.S. registered investment companies on fund governance and fiduciary matters.
Prior to joining Dechert, Catano served as an associate in the investment management practice group of another international law firm. He also served as a law clerk at the U.S. Securities and Exchange Commission and U.S. Commodity Futures Trading Commission and as a legal and regulatory policy fellow at the U.S. Chamber of Commerce.
.