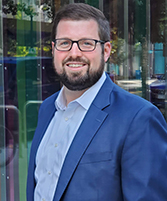 "The ability to take specialized classes through the Institute, learn from practitioners living the legal issues, and benefit from the community of CUA communications lawyers in Washington, D.C., made a big difference in my career. I graduated with a network of contacts and subject-matter knowledge that set me apart from other new lawyers."
David Redl is the founder and CEO of Salt Point Strategies. Redl is an attorney and former government executive with experience in both the legislative and executive branches of the U.S. government in the telecommunications, media, and technology fields.
Redl served as Assistant Secretary of Commerce for Communications and Information and the Administrator of the National Telecommunications and Information Administration from 2017 to 2019. During his tenure, he led U.S. efforts to ensure American leadership in 5G, to bring broadband to more rural Americans, and to promote a free, open, and secure Internet around the world.
Redl also represented the United States in international forums, including leading U.S. efforts before the Internet Corporation for Assigned Names and Numbers, the Inter-American Telecommunication Commission, the Organisation for Economic Co-operation and Development, and the International Telecommunication Union.
In the legislative branch, Redl served as Chief Counsel for Communications and Technology on the majority staff of the U.S. House of Representatives Committee on Energy and Commerce. While at Energy and Commerce, Redl worked extensively on telecommunications, media, and technology laws, including the successful passage of laws authorizing the first-ever spectrum incentive auction, the creation of the First Responder Network Authority, and reauthorization of the satellite television laws.
Prior to his government service, Redl started his career as Director of Regulatory Affairs at CTIA, an international trade association of the wireless communications industry.
Redl received his B.A. in Journalism and his B.A. in Political Science from the Pennsylvania State University and his J.D. from the Catholic University of America with a certificate from the Institute for Communications Law Studies. He is a member of the New York and District of Columbia Bars. Redl is also a Senior Fellow with Silicon Flatirons at the University of Colorado Boulder.