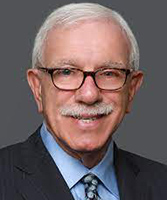 "If you love what you do you will never have to work a day in your life. I have had a wonderful career spanning 50 years—it was the Catholic University Law School that gave me these opportunities—and I will be forever grateful."
Alan Grimaldi is a partner in Mayer Brown's Intellectual Property practice and is the former co-leader of the practice. At his former firm, he was co-chair of a 250 member intellectual property practice and was previously co-chair of that firm's commercial trial group. His accomplishments include a jury verdict of non-infringement after a five-week trial in the Federal court in Arizona. In addition, he obtained a $76 million judgment against the United States in a breach of contract case for a midwestern banking client.
He has extensive experience in both offensive and defensive patent and other intellectual property litigation, including mediation and arbitration, and has represented IP clients in the consumer goods, smartphone, health care, chemical, electronics, automotive, banking, defense, energy & oil, and drug industries.
Grimaldi has also had significant experience in all aspects of private and government antitrust and other complex commercial litigation including nationwide class action litigation, multidistrict litigation in federal and state courts, federal and state administrative agency litigation, unfair competition, insurance coverage, products liability, and litigation dealing with trade-related matters.
Grimaldi clerked for the Honorable Barrington D. Parker, U.S. District Court for the District of Columbia from 1971-1972 and worked at the U.S. Patent and Trademark Office from 1967-1971 (including clerkships to the Board of Appeals, Assistant Commissioner, and Office of International Affairs).