December 01, 2021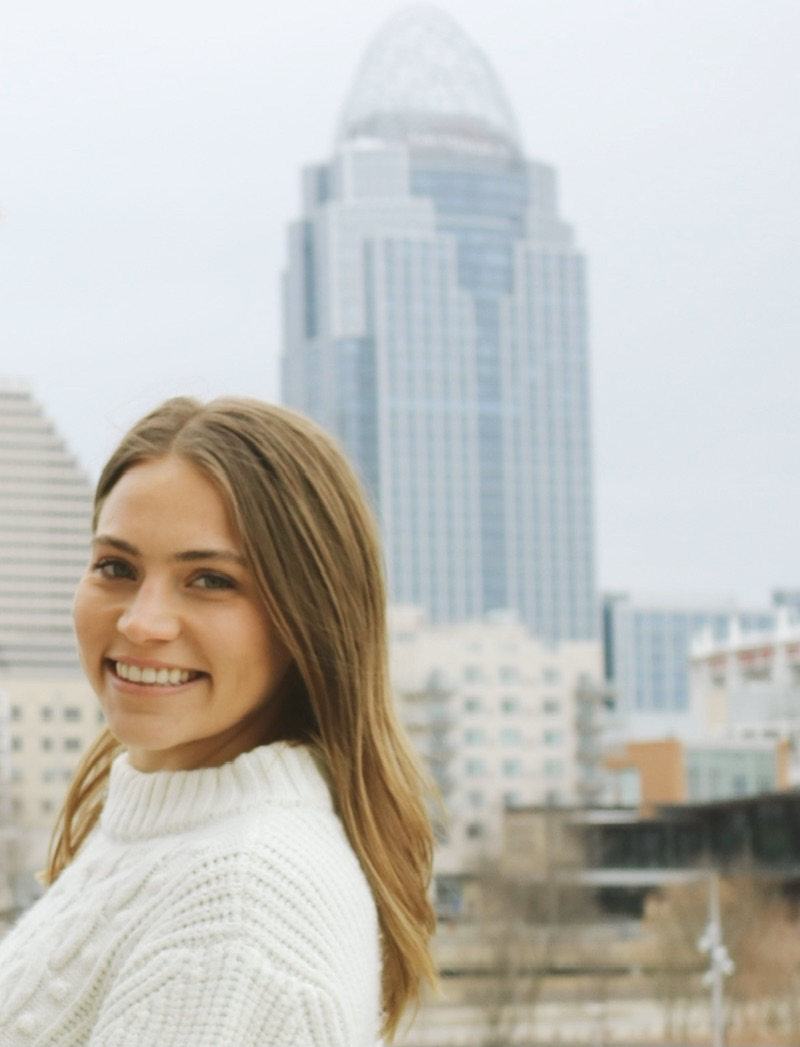 "When I first visited CUA Law, I noticed the bible verse, Micah 6:8 which says, 'do justice, love mercy, and walk humbly with God,' and I thought to myself any school that has that on the outside of the building must work towards building that type of mentality in the community, which I found and continue to find to be true." Third-year law student Katie Koopman had wanted to find a law school where she could be involved, find a sense of community, and prioritize service to others. With this inscription, she knew she found her fit. Now, at the start of her final year at Catholic Law, Koopman reflects on her law school experience.
Originally from Cincinnati, Ohio, Koopman attended Hanover College in Indiana. She earned her bachelor's degree in Global Social Change with a minor in Spanish. It was while at Hanover that Koopman decided to pursue a J.D. "I decided to attend law school because I realized that if I really wanted to make a difference in the world and in people's lives, I would need to understand the law." She explained further, "In undergrad, I was studying sociology, political science, and economics and kept realizing that the common thread affecting all of them was the law."
Upon arriving at Catholic Law in the fall of 2019, Koopman quickly felt at home. "I realized that CUA Law would be the kind of place where I could be involved, make connections with professors, and all around have a supportive community to help guide me through my time in law school." Even from her early days as a 1L, Koopman—who is a student in the Comparative and International Law Program—has taken advantage of both on- and off-campus opportunities to get involved. Koopman participates in several of the student-led organizations at Catholic Law. She is Editor-in-Chief of the Catholic University Journal of Law and Technology (JLT) and the Vice President of Academic Affairs for the Student Bar Association (SBA). She is also a member of the Military and National Security Law Association, the Moot Court Association, and the Pro Bono Advisory Board. Koopman is also a Dean's Academic Fellow.
Koopman has also pursued multiple internship opportunities as a way of honing her practical legal skills. In the summer after her first year, Koopman interned with the Air Force JAG at Joint Base Andrews. There, she worked in the Military Justice Law and Policy division. "I worked closely with the JAG who worked on the Air Force policy as it relates to sexual assault and domestic abuse victims." In the spring of 2021, Koopman interned at the Department of Justice, Criminal Division, Office of Human Rights and Special Prosecutions. "At this internship," she noted, "I mostly did research and writing projects for the office's docket of international violent crime, human rights, and human smuggling cases." Over the summer, Koopman interned with the U.S. Attorney's Office in the Major Crimes Division of the Superior Court Section doing trial preparation, and this semester, she is working with a senator in the Senate Judiciary Committee.
Despite the busy schedule of courses, co-curricular activities, internships, and wedding planning Koopman has found ways to find balance amidst the stress of law school. "I love anything health and fitness-related. I love to run, lift weights, do yoga and Pilates, hike, and spend time outdoors." She added, "I also love food, coffee, and cooking, as well as fashion and photography and spending time with friends exploring D.C."
With her last year at Catholic Law laid out before her, Koopman is eager to make the most of it. "During 3L, I intend to remain engaged in the CUA Law community through extracurricular activities. I am especially excited for the upcoming events where I can meet other CUA classmates I have not seen throughout the past year during online school."