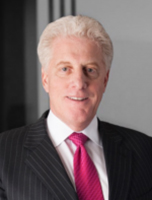 Pat focuses on handling complex cases, such as those involving catastrophic injuries, product liability, medical malpractice, traumatic brain injury and wrongful death. He also has extensive experience with cases involving Metro subway and Metro bus accident claims against WMATA. In fact, according to the Washingtonian Magazine, Pat is "the Washington lawyer you call when you want to sue WMATA". That same publication also calls him a "personal injury lawyer who could be a poster boy for legal ethics and integrity".
Pat is board certified in Civil Trial Advocacy by the National Board of Trial Advocacy. Throughout his extensive legal career, he has recovered verdicts and settlements valued at more than $250 million. Still, despite his success with complex, high-profile cases, Pat remains committed to providing personal service to all clients. Thus, once he accepts a case, he stays involved with every level of the claim. Every personal injury case is different, but he approaches each with the same passion and dedication with the goal of helping victims and their families put their lives back together.
Outside of work, Pat donates his resources and time to various legal and charitable organizations in the community.
Mr. Regan has litigated cases resulting in precedent-setting appellate decisions in medical malpractice, cerebral palsy, wrongful death, police misconduct/high-speed pursuit, trucking collisions, premises liability, and products liability. Mr. Regan and his partners recently obtained significant appellate decisions which: (1) established the new tort of spoliation for destruction of evidence in the District of Columbia; and (2) established dram shop liability for restaurants serving alcohol to minors.
Mr. Regan is a member of numerous national and local professional associations including, the American Association for Justice, Member, Board of Governors (1994-Present); Leaders Forum (2000-Present), the American Bar Association; the District of Columbia Bar Association; the Maryland and Virginia Trial Lawyers Associations; the Civil Justice Foundation and the Roscoe Pound Foundation. Mr. Regan was elected President of the D.C. Trial Lawyers Association (1992-1993), and has held many other executive positions within that organization, including Chairman of the Membership Committee (1988-1991), Vice President (1989-1990), President-Elect (1990-1991) and as a member of the Board of Governors (1984-Present). Mr. Regan has also served on a variety of committees for the D.C. Bar including Chairman of the Injury to Persons and Property Section (1988-1989). Mr. Regan served as a Master of the Bench of the Thurgood Marshall American Inn of Court (1988-2004).
Mr. Regan has written and lectured extensively in the field of personal injury law. Mr. Regan is one of the authors of the six-volume publication, ATLA's Litigating Tort Cases, published by Thomson-West. He has been an Adjunct Professor of Law, Catholic University School of Law (1985-1986, and 1992-1999), has taught many Continuing Legal Education courses for the District of Columbia Bar, and has served as a speaker for numerous national seminars presented by the National College of Advocacy, the American Board of Trial Advocates, the American Bar Association, the Maryland Institute for Continuing Education of Lawyers, and the National Business Institute.
Mr. Regan has been elected President of the D.C. Chapter of the American Board of Trial Advocates and is a Member of the Board of Regents of the Catholic University of America (1990-Present), and is a Member of the Board of Visitors of the Catholic University of America School of Law. In addition to his professional activities, Mr. Regan has served on the boards of numerous other organizations, including the Board of Trustees, The Holton-Arms School (2002-Present); the Board of Directors, Columbia National Bank (1985-1990) and the Board of Trustees, Metropolitan Day School (1995-2001). In addition to his service to the law and to his clients, Mr. Regan devotes considerable time and resources to many civic and charitable organizations. For many years, he has coached his children's soccer and baseball teams.