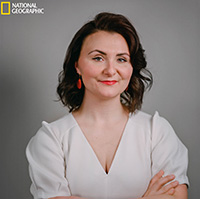 "There is no doubt that attending the Catholic University of America's Columbus School of Law was a turning point in my life. Dean Miles, the unparalleled faculty and staff, and my peers exemplified the true power and range of what a law degree could mean for my career, and empowered me to embrace my desire for a non-traditional legal path."
Jennifer Pierotti Lim is the Founder and Executive Director of Republican Women for Progress and was previously the Founder of Republican Women for Hillary.
After RWFH gained national attention in the summer of 2016, Jennifer was invited to speak on the closing night of the 2016 Democratic National Convention, where she addressed a television audience of close to 33 million people. Jennifer regularly appears on outlets including CNN, MSNBC, BBC, and PBS and her written work has been featured in the New York Times, Huffington Post, and The Hill. Jennifer was most recently featured in the ABA Journal and National Geographic's issue on women's suffrage. She has also guest lectured at The George Washington University and Georgetown University on politics, health care reform, and lobbying. In 2019, Jennifer and her team were finalists in the Professional Women in Advocacy awards for their work with The Campaign School at Yale training women to run for public office.
Previously, Jennifer was the Director of Health Policy in the Labor, Immigration, and Employee Benefits Division at the U.S. Chamber of Commerce where she handled health care issues affecting employers and health sector members of the Chamber, in addition to researching and developing the Chamber's overall policy on health care reform. She also served on the U.S. Senate Committee on Business and Entrepreneurship under Olympia Snowe and worked in Altria's legislative affairs office.
A 2010 graduate of The Catholic University of America, Columbus School of Law, Jennifer received her B.A. in public interest policy from the University of Mary Washington in 2007. She is a member of the District of Columbia Bar and the Junior League of Washington, and currently lives in Washington, D.C. with her husband Tim, daughter Penny, and dog Pierce.