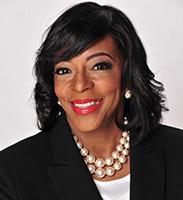 "The Catholic University of America Columbus School of Law changed the trajectory of my life and guided me to a solid path of public and community service. Through the Office of Career and Professional Development, I was afforded opportunities to intern with the U.S. House Judiciary Committee on Civil Rights and Constitutional Law, United Mine Workers of America, the Social Security Administration, and Houston and Gardner."
Deborah Watson-Stokes is a native of Detroit, Michigan and long-time resident of West Philadelphia, Pennsylvania. Deborah graduated from Michigan State University with a Bachelor's Degree in Political Science. While at Michigan State University, Deborah was the Director of the Office of Black Affairs and Vice President of the Delta Sigma Theta Sorority, Delta Epsilon Chapter. After matriculating from Michigan State University, Deborah worked as a Marketing Representative for Xerox Corporation. She also served as a mathematics teacher at Martin Luther King, Jr. High School in Detroit, Michigan.
Deborah obtained her Juris Doctor degree from Catholic University of America. While attending law school, she was involved in numerous student groups that advocated for justice and social change. Deborah was president of the Catholic University Black Law Students Association and Vice-President of the Northeast Region of the National Black Law Students Association. Deborah worked for the U.S. House Judiciary Committee on Constitutional and Civil Rights and later transitioned into the private sector as a civil litigator, working for Houston and Gardener. In 1990,
Deborah started her lifelong career in the Philadelphia District Attorney's Office. This career would lead her to touch the lives of hundreds of members of the community in powerful ways. Deborah has spent the last eighteen years as a highly- esteemed member of the Homicide Unit. She has navigated hundreds of grieving families through the arduous process of a criminal trial and delivered justice with skill and compassion. Deborah was then selected to be the Assistant Chief of the Southwest Unit. She is an outstanding role model to young attorneys in both her professional excellence and personal integrity. Deborah's savvy, sharp and down-to- earth professional style has made her a distinguished and polished jurist in prosecuting some of Philadelphia's most violent crimes. Deborah was the recipient of the Barristers' Association of Philadelphia the Justice Juanita Kidd Stout Woman of Distinction Award, the District Attorney's Gladiator 300 Award, the Philadelphia Coalition for Victim Advocacy Lynne Abraham Award and the Philadanco, Philadelphia School of Dance Arts Community Service Award. Deborah has also been widely-sought as a trainer and lecturer in the areas of homicide prosecution and trial advocacy.
Ms. Watson-Stokes was scheduled to receive BLSA's Alumni Achievement award at the spring reception of 2020.