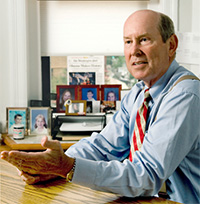 "My best memories from the Law School start with the professors who taught with a passion for the law and for their students. I still have that same passion for the law, for our clients' needs, and for the young lawyers at our firm. Next are the friendships with other students, which were a bedrock for success in the evening division. Finally, when useless anxiety seemed to cloud the horizon, I could usually find a mass to attend only steps away, sometimes presided over by a favorite professor." 
J. Michael Hannon studied in the Evening Division of the Law School while teaching English and coaching swimming in Montgomery County high schools. He graduated in 1980. His father the Honorable Joseph M. Hannon, former Associate Judge of the D.C. Superior Court, graduated from the Law School in 1951, and was the recipient of the University's Alumni Achievement Award in Law in 1989. His brother Brian M. Hannon graduated from the Law School in 1986, and is a partner at the IP firm of Sughrue Mion.
Mr. Hannon began his legal career in 1980 as a law clerk to the Honorable Frank Q. Nebeker, then Associate Judge on the D.C. Court of Appeals, In 1981, he followed his father's career being sworn in as an Assistant United States Attorney for the District of Columbia where he investigated and prosecuted violent and white collar offenders. Mr. Hannon was responsible from 1983 to 1985 for the investigation and prosecution of homicide and sex offense cases in the Superior Court. He was promoted to the Special Prosecutions Section where he was responsible for the investigation and prosecution of racketeering, international fraud, and terrorism cases in the United States District Court for the District of Columbia Circuit until his departure to private practice in 1988.
As a partner with Thompson O'Donnell, LLP, in October of 1994 Mr. Hannon argued before the United States Supreme Court in the first appeal from the United States Court of Appeals for Veterans Claims. The Supreme Court ruled unanimously in favor of Mr. Hannon's veteran client, overturning a 70-year practice by the Department of Veterans Affairs denying compensation to medically injured veterans.
Mr. Hannon founded HANNON LAW GROUP, LLP, in May of 2006, and is pleased to report that the firm has hired only graduates of the Columbus School of Law since its founding. The firm now boasts 7 CUA alums and 2 current students on its staff.