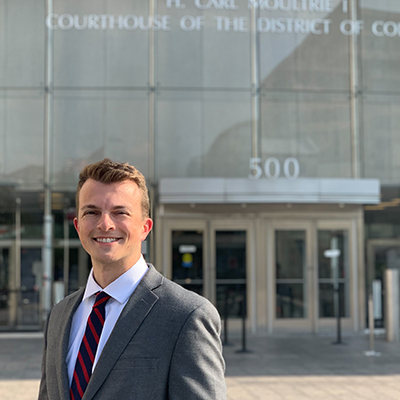 This past summer I served as a judicial intern for The Honorable Julie H. Becker at the Superior Court of the District of Columbia. Under the supervision of Judge Becker and her clerks, I researched, wrote, and cite-checked legal memoranda related to her Juvenile and Domestic Relations calendar.
During my summer, I was fortunate enough to have the opportunity to research novel and unique issues of law. Specifically, I wrote several memoranda related to the issues of error coram nobis and ineffective assistance of counsel which arose before Judge Becker. Additionally, I prepared the Judge's daily calendar which typically averaged between fifteen to twenty cases per day. This allowed me to gain experience in case load management. When there were opportunities for me to do so, I observed trials arising before other judges at the Court, including an array of trials ranging from misdemeanors and civil penalties to a double homicide. When watching trials, I focused on the ways in which prosecutors and defense counsels formulated their arguments and applied the rules of evidence to help their cases. The clerks in Judge Becker's Chambers invited me to several networking opportunities, as well. As an intern in the Court, there are valuable learning opportunities around every corner.
I am so grateful for Students for Public Interest Law and the SPIL Stipend. Without it, I would not have been able to work full-time at the Superior Court. The Stipend allowed me to develop my skills in legal research and writing, and the opportunity to work for Judge Becker taught me so much about the inner workings of a judicial chambers. Because of the Stipend, I was able to assist Judge Becker in her service to the community. The most rewarding moments of the summer internship were when Judge Becker approved adoptions because I was inspired to see the legal system help create a family structure for children without one. As I move forward as a law student and in my career, I will always remember the valuable lessons I learned in Judge Becker's chambers, made possible by the SPIL Stipend. For that, I am forever thankful to SPIL.