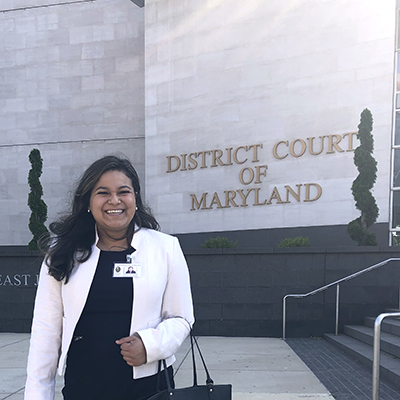 During the summer of 2019 I had the incredible opportunity to work with the Honorable Zuberi Williams in the District Court of Maryland for the VI Circuit in Montgomery County, Maryland through the Judicial Internship Opportunity Program (JIOP) operated by the Litigation Section of the American Bar Association. Working under the guidance and mentorship of Judge Williams was a phenomenal experience that offered me the opportunity to observe court, gain writing experience, and provided unique networking opportunities throughout the summer.
I was fortunate to observe court proceedings daily. Constant observation of the work that goes on in court offered unique perspective on day-to-day litigation. Judge Williams sits on a mixed docket, overseeing both civil and criminal cases, providing the opportunity to learn about a myriad of legal problems. Judge Williams works closely with the American Bar Association's JIOP program to make the summer experience unique and educational. Following a Socratic method, Judge Williams would "call on" interns to answer legal questions regarding matters in court, often seeking our input and giving the opportunity to think through hard legal questions as they are being applied in real world contexts. I found myself being constantly challenged to think critically about problems that on their face seem surface level.
In addition to the day-to-day work, Judge Williams offered unique out-of-work opportunities. For example, my fellow interns and I traveled to New York to participate in the Sentencing Summit hosted by NYU's Law School. This conference gathered lawyers from around the country to discuss how to improve equity in sentencing in the United States. It was inspiring to see lawyers from different practices look into the future of our field.
I cannot speak highly enough of the opportunity this internship presented. As a first-generation college and law student, Judge Williams truly took time out of his busy schedule to work with me one-on-one, advise me, and help me grow as a person and as a lawyer. I cannot thank JIOP and Judge Williams enough. I am forever grateful for the SPIL Stipend for affording me the opportunity to have a public-interest position that would have otherwise been financially impossible. Thank you!