April 02, 2021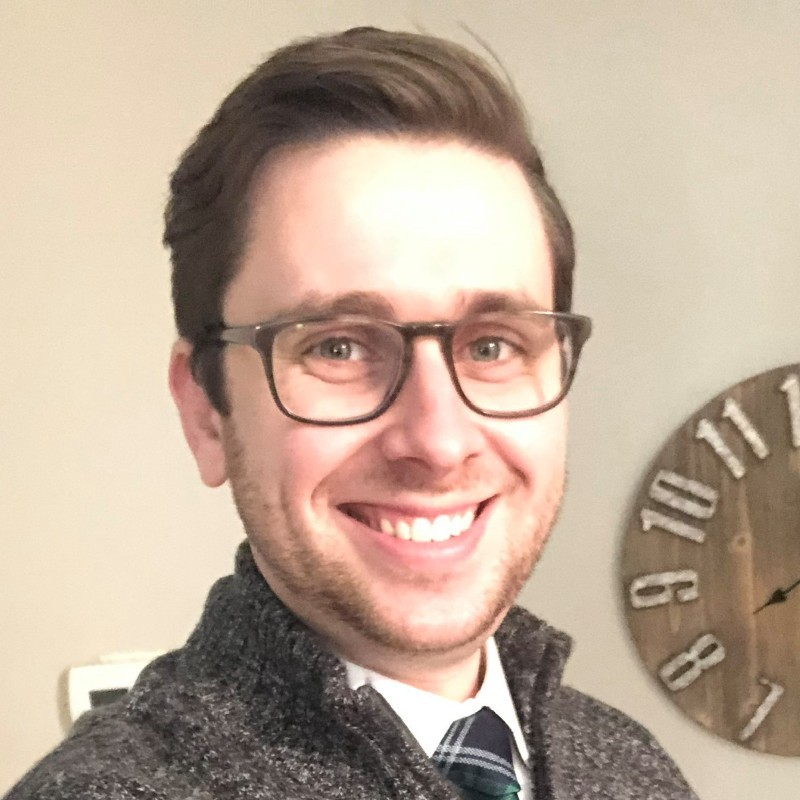 The last 18 months have been unlike any other in recent memory. For law students, it has required unprecedented adjustments and adapting to new ways of learning (much of which was virtual). In navigating the pandemic, Catholic Law students—especially first- and second-years, who have had very little time in a typical law school environment—have demonstrated resiliency and commitment to the law and serving others. Despite these obstacles, for second-year law student Chris Huff, intellectual curiosity passed down from his grandfather has helped him to find success in law school.
Originally from the Atlanta metro area in Lilburn, Georgia, Huff attended Kennesaw State University for college—majoring in International Relations and French. Following his graduation from undergrad, Huff spent the next several years using his interest in language to explore the world around him. He taught five languages at an adult language training center in Atlanta before spending a year in Beijing, China, self-studying Mandarin. After his time abroad, Huff returned home and worked as a flight attendant with a U.S. airline. After a few years in the workforce, Huff decided to pursue a law degree. When reflecting on his decision to go to law school, he shared, "The opportunities that a law degree affords people who think analytically and have a passion for advocacy and ideas are unparalleled." He added, "A career in the law is the right place for my interests and skillset." When it came time to choose a school, a combination of factors led him to Catholic Law; high on that list was the Law School's Washington, D.C., location and the campus's close proximity to the nation's legal center.
Studying in the Law and Technology Institute which provides members with a concentrated curriculum, Huff joined his classmates in exploring important legal questions surrounding evolving technologies. Huff has also taken advantage of opportunities outside of the classroom to pursue these important topics. As a member of the Moot Court Association, Huff and his teammate, Joseph Kane (2L), competed in this year's 27th Annual National Telecommunications and Technology Moot Court Competition (NatTel). The competition featured a particularly timely prompt, as competitors focused on technology and data collection during a pandemic, and the duo ultimately went on to earn a second-place finish. Huff is also a Staff Editor for The Catholic University Law Review, Vol. 70. Beyond his work for the Law Review, Huff also recently had an article independently published in Information & Communication Technology Law. His article, "License and registration: how both property and contract legal frameworks fall short on interpreting domain name registration under the US Anticybersquatting Act," proposes a system of licensure instead of the traditional intersection of Intellectual Property law and contract law as the appropriate framework for re-registrants' rights to internet domain names.
Huff has also found time to hone important skills necessary for a successful legal career through several internship opportunities. Since the summer of 2020, Huff has held positions that, while virtual, have provided important hands-on training. In the summer between his 1L and 2L years, Huff interned for a Maryland Circuit Court judge. The judge was so pleased with Huff's contributions that he invited Huff to continue after the summer position concluded. Huff accepted the offer and returned to work for the judge during the Spring 2021 semester. In the intervening fall, Huff worked with the Federal Communications Commission (FCC) in the Wireline Competition Bureau. While all of his internships have had to be conducted virtually, Huff reflected, "It was great to get to have professional experience even if the chance to go in person, meet my supervisors, experience the setting of the legal work I was doing, and the rest, were not possible." Huff was also grateful for the pro bono experience he was able to have in-person during his 1L year. He noted, "I had a pro bono opportunity pre-COVID in the fall of my 1L year with an expungement clinic, and it was a good experience; the organizers were enthusiastic to have law students there who wanted to help."
With classes, co-curricular activities, and internship opportunities, Huff has definitely had a full schedule. And while it can often be stressful juggling all of the demands of law school, Huff has found ways to help himself maintain a sense of balance through it all. Huff outlined a few things that work for him—chiefly setting aside time for leisure and outdoor activity. He shared, "Reading is a great escape. I try to take walks, especially alongside my girlfriend. Any excuse to get outdoors is a plus, although it can be harder to motivate oneself in the winter months."
While his time at the Law School has seen obstacles that come with a largely remote environment, Huff has navigated his first two years successfully. He opined, "you have to make your own experience." Huff looks optimistically toward a more typical third year in law school and looks forward to embracing the next chapter in his journey.