March 22, 2021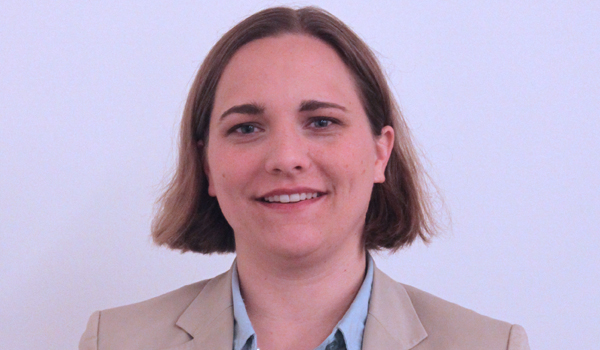 Is it ever too late to pivot your career trajectory? That is the question Catholic Law third-year student Svantje Swider asked herself when she was considering leaving an eight-year career at the Department of Defense to pursue her JD. Swider shared, "I had thought that I really wanted to do National Security and I did enjoy a lot of aspects of working in National Security as a field, but you don't really know what it's going to be like until you get there." She continued, "A couple of years in, I realized that I wanted to do something else long-term for a career." Many of Swider's college friends, who like her had studied foreign affairs during their undergraduate studies, had gone straight to law school, so the less traditional path that lay before her felt somewhat daunting. Luckily, around the same time, Swider's younger brother was beginning his JD as an "older than average law student." With his experience and support, Swider felt confident in her decision to take the plunge. Now, as her time at Catholic Law is drawing to a close, Swider took an opportunity to reflect on her law school experience.
Having worked in the Washington, D.C., area since graduating from the University of Virginia, when Swider began looking at law schools, she focused her attention on schools that would keep her in the District. From there, it was a cluster of factors that made Swider feel like Catholic Law was the right fit for her. Chief among her considerations was Catholic Law's Law and Technology Institute (LTI) and the school's connections within the communications law field. She was quick to note, "The school's ability to get you into communications and regulatory law had a lot to do with my decision." Swider also cited the Law School's small community feel and the "school's ethos and culture" as part of its appeal.
Since joining the Catholic Law community, Swider has found experiences beyond the classroom to learn and hone skills—taking advantage of the campus's close proximity to an extensive array of practical learning opportunities. As early as her 1L year, Swider leaned into Catholic Law's mission of service through Pro Bono work which allowed her to dip her toes into what it would be like to work as a lawyer. Through the Volunteer Income Tax Assistance Program (VITA), Swider provided free tax preparation and support to lower-income persons, persons with disabilities, and persons with limited English proficiency. Then last year, just before COVID shut things down, Swider spent part of her Spring Break assisting at the Landlord Tenant Resource Center, a subset of the DC Bar Pro Bono Center, that assists with landlord/tenant issues in the city. Swider explained, "People come [to the Resource Center] if they don't have legal representation. They help people navigate the landlord/ tenant court system."
Swider has also held several internship positions during her three years at Catholic Law. In the summer following 1L year, Swider worked as a judicial intern for a judge in D.C. Superior Court. The judge's docket heard almost exclusively domestic relations cases. Swider shared that she was especially impressed by the judge's handling of the cases. "I was impressed by how wise and astute that judge was in not only coming up with intellectually smart solutions but also in treating people wisely and humanely."
As a 2L, Swider was able to participate in internships that aligned with her interests in communications law. She worked both for the Department of Commerce in the National Telecommunications and Information Administration (NTIA) and the Federal Communications Commission (FCC). Experiencing work in an Executive Branch agency and as well as an independent government agency allowed Swider a unique perspective. She said, "It was interesting to see how different people navigated their jobs differently because they are trying to accomplish policy outcomes, but the different organizations have different roles and powers and exist in different structures. How people get things done with a different set of constraints is interesting when you compare their work side-by-side." Despite her plans to work at the federal level, Swider also took the opportunity to see local government in action. During the summer of 2020 and then again this semester, Swider has interned at The Office of the County Attorney for Fairfax County. Swider has enjoyed the experience, and noted, "It's really eye-opening to see how state and local government works."
In addition to her focused course work and hands-on experiences, Swider has participated in several of Catholic Law's student organizations. She is a member of the Law and Technology Student Association and served as the organization's president during her second year at Catholic. As president, Swider helped to coordinate events for LTI students to build connections with Catholic Law alumni working in the communications law field, put on panels about topics like privacy challenges with biometric data, and host "lunch and learn" programs. Swider is also on the staff of the Catholic University Law Review and currently serves as a Note and Comment Editor.
With a busy law school schedule, it can certainly be challenging to maintain a sense of balance. Swider admitted, "There's no magic solution." She also mentioned the genuine enjoyment of being with her classmates. "I genuinely, really enjoyed being at the school and being with my classmates." While COVID-19 has restricted the ability to be together, Swider noted the importance of that connection. She continued, "[Being together] was a source of stress relief both because of the feeling that we were all in this together and also because Catholic Law people are really nice. I have been impressed with just bow consistently personable and friendly people at Catholic are." Swider was also quick to applaud her peers for being hard-working and motivated students without it being at the expense of one another. The lack of in-person connection that has happened as a result of the pandemic has been particularly difficult for Swider, she shared, "I miss seeing people."
The pandemic has also contributed to a daunting job market that Swider and her fellow 3L's have had to navigate. For Swider, who graduated from undergrad soon after the 2008 Financial Crisis, it has felt like an unwelcome flashback in some ways, but she has adapted her networking and application strategies to fit better with the new hiring scene. She observed that organizations that have more formal, established hiring strategies have by and large moved forward as usual, while those that generally rely on informal networking and connections have shifted their timelines some. Swider utilized her connections made prior to the pandemic and platforms like LinkedIn to help in her job search. Swider was also excited to share that she just recently solidified her job plans following graduation. While she misses seeing her peers as regularly as she would like, Swider is also excited to see what the next step in her career path will bring.