March 16, 2021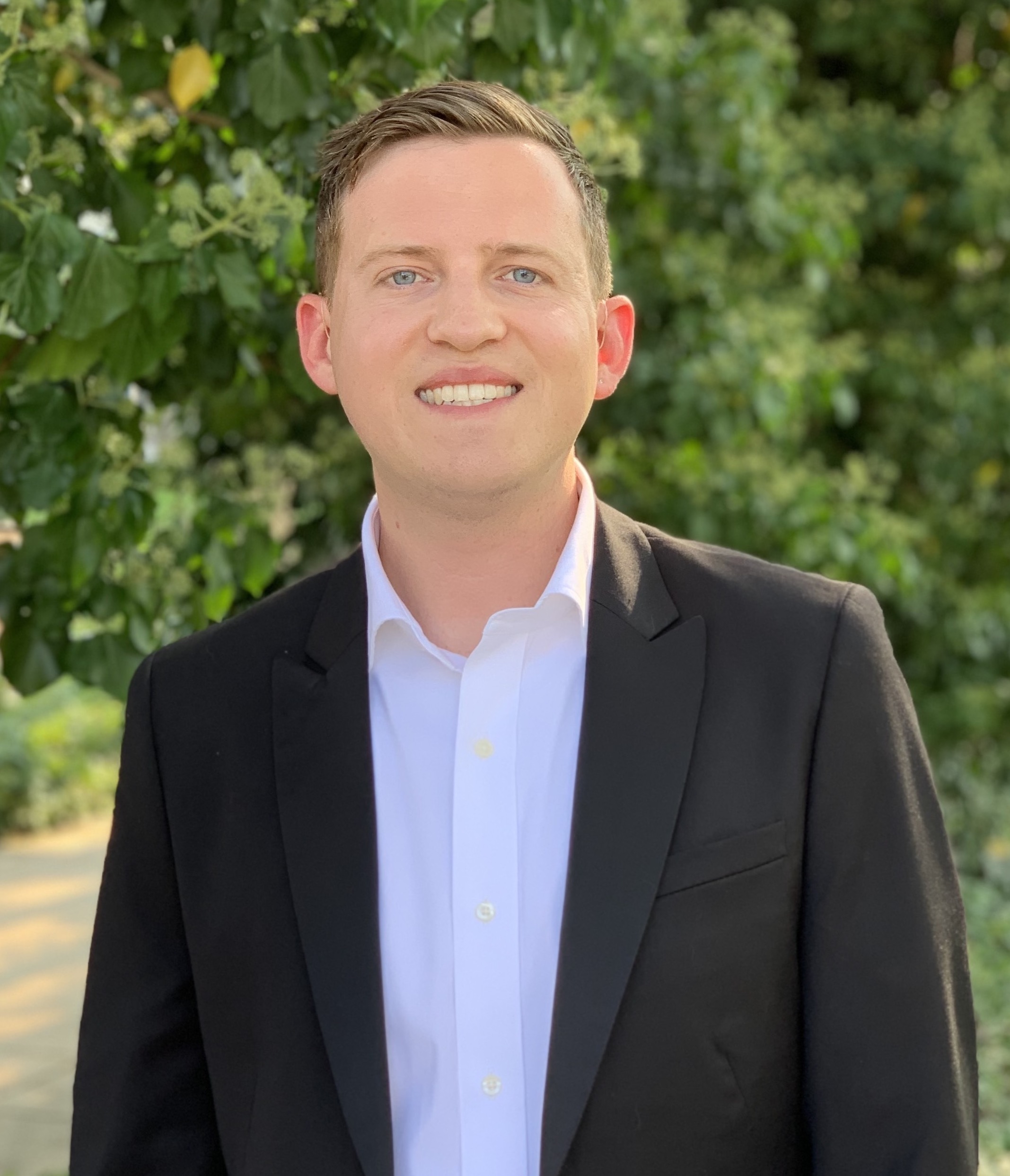 Catholic Law's collegial and caring community brings together a diverse student body—each individual bringing with them a wide array of personal and professional experiences that contribute positively to the community as a whole. Catholic Law third-year student Caleb Holland may have taken a less traditional path to law school, but his passion for learning and strong work ethic have set him up for success. With just two months left before graduation, Holland reflected on his experiences as a first-generation college and professional school student and his time at Catholic Law.
Holland was born and raised in Smithfield, Virginia, or as he affectionately called it "the ham capital of the world." While he did well academically in high school, Holland was also a first-generation college student, and navigating the complex—and often overwhelming—structures of higher education wasn't easy. Holland admitted, "I took the scenic route through higher education." He explained, "I worked my way through community college, and eventually finished my bachelor's degree while working full-time at Old Dominion University (ODU)."
After earning a degree in Biology, Holland worked at ODU for six years—first in career services and later as an academic advisor. He also completed a graduate certificate in Global Health. It was while studying health policy and serving vulnerable populations that Holland realized his desire to go to law school. He shared, "I chose law school because I want to help people." Holland continued, "I know what it's like to be facing complex problems with little understanding of how to take even the first step, and I want to be the person who makes such processes easier for others."
Leaving his job and taking the leap into law school, there were several factors that made Catholic Law the right fit for Holland. He explained, "I knew that Catholic had a really strong network of alumni, and its location in the Nation's capital is a huge advantage when it comes to experiential and career opportunities. I was particularly drawn to the Law and Technology Institute because I wanted to be able to work in a science-adjacent field." Once he stepped foot onto the campus for a visit, he knew he was right where he needed to be.
Moving toward a career in law was quite different than his field of study in health and science; however, Holland found ways to marry his interests together. He noted, "I have found there is a myriad of ways to combine my subject matter expertise with my drive to help others in my legal career." As a participant in the Law and Technology Institute, Holland has access to a more specified curriculum that allows him to explore and engage with burgeoning legal questions surrounding evolving technologies.
Holland has also taken advantage of other on- and off-campus opportunities that help him to gain practical skills that also fit with his background in science and policy. In the summer of 1L year, Holland had a judicial internship in the Court of Federal Claims in the Office of Special Masters (OSM). The work within the specialized federal court, that deals with vaccine injury claims, allowed Holland to peel back the curtain on judicial processes and utilize his background in biology. Then, as a 2L, Holland interned at the Department of Commerce in the National Telecommunications and Information Administration (NTIA). With more of a focus on policy, this opportunity helped Holland to appreciate the work that goes into law and policy. Holland added, "I'll be working in the food and drug regulatory space after graduation, so this was a really valuable experience."
In addition to his course work and internship experience, Holland is also a member of several student organizations at the Law School. He is a Note and Comment Editor of the Catholic University Law Review and has served as an officer in the Law and Technology Student Association—first as a 1L representative and then as the Intellectual Property Coordinator as a 2L. Holland has also been a member of the Moot Court Association since his 2L year and has taken on the role of Chancellor this year. As Chancellor, Holland has helped the organization navigate challenges brought about by the pandemic. Elected to the position just weeks before COVID-19 shut down in-person instruction in March 2020, Holland has had the unique experience of leading Moot Court in an entirely virtual format. About the experience, he shared, "We've had to change all of our competitions to an online format, and also work to prepare our competitors for virtual competitions as best as possible. The biggest obstacle for me has been the restriction of communication. It used to be that you could talk to someone in the hallway or after class, but in the COVID-era that organic nature of conversation has been stripped away." He concluded, "COVID forced me to adapt and not only find ways to make sure my messages were heard but also to make sure that I found ways to actively listen to others as best as possible."
With seemingly endless demands on a law student's time, it can be difficult to maintain a sense of work/life balance. For Holland, maintaining balanced, healthy relationships has helped him to navigate his time at Catholic Law. Holland explained how both relationships within the Law School community as well as ones outside of it have been important for him. "It is extremely important to have a strong network of friends within the school environment because you need people who are sharing the same experiences as you to help you emotionally regulate how you perceive your workload, stress, and other lifestyle factors." He added, "I think it is equally important, however, to have relationships that keep you grounded and connected to the world outside of the law school bubble. My husband has been my biggest supporter, and he does a great job of helping me keep things in perspective."
With May fast approaching, Holland is looking forward to working in food and drug regulation and using his passions to continue to serve others.