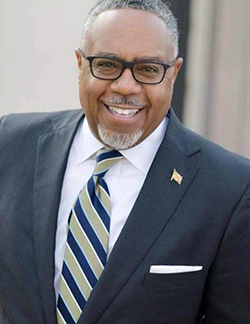 School
Columbus School of Law
D. Michael Lyles was appointed as the City Attorney for the City of Annapolis in December 2019. In the position he leads of team of lawyers and administrative staff in defending the city against a vast array of lawsuits in state and federal court, providing sound legal advice to city leadership, negotiating and completing myriad transactional matters, drafting legislation and securing and memorializing the City's legal and political documents and papers. Since assuming the position, Lyles and his team have advanced the legal position of the City by successfully defending and advocating for the City in virtually every matter brought since his appointment.
Prior to his service as The Annapolis City Attorney he was in private law practice in Maryland and the District of Columbia. Lyles' practice focused on representing business clients in a range of corporate matters, including complex Commercial Litigation, Insurance Defense, Intellectual Property Disputes, Real Estate Transactions, Employment Law, Food and Beverage and Government Relations.
From 2011 to 2018, Lyles served as the appointed Executive Director of the Prince George's County Human Relations Commission (The County's Civil Rights Enforcement Agency) where his bold and aggressive leadership helped to significantly improve the investigation and prosecution of claims of unlawful discrimination County-wide, garnering the agency recognition as one of the best civil rights enforcement agencies in the entire United States, based on cases brought, closed and money won for victims in a timely manner. The agency's mission was to protect citizens from discrimination in Housing, Employment, Policing, Education, Real Estate Transactions, Financial Lending, and Public Accommodations. As a result of his organized and focused style of leadership in securing civil rights for victims of discrimination, Lyles was able to assist in the establishment of Prince George's County's anti-human trafficking task force, a first of its kind in Maryland and one that was a model in the region. Lyles was appointed its first Chair and in two years was able to secure over a million dollars in grant funding from the U.S. Department of Justice to further the Task Force's regional mission to end sex and labor trafficking.
From 2006 to 2011, Mike Lyles served as a Trial Attorney with the Department of Defense Office of General Counsel, representing the interests of the Department in Industrial Security Clearance cases. Prior to that, he served in the Prince George's County Office of Law as a Senior Associate County Attorney representing the County in major litigation and complex corporate transactions. Early in his legal career, he worked to find permanency in the lives of foster children, as Deputy General Counsel for the District of Columbia Child and Family Services Agency from 1996-1998, where he helped establish a new D.C. foster care agency through a federal court receivership.
As a talented organizational leader and community advocate, Mike has been fortunate to serve as legal counsel to and visionary leader of various organizations, including serving as Chair of the Bowie State University Board of Visitors ( 2007-2016), International General Counsel for the Omega Psi Phi Fraternity (2014-2018), General Counsel to the Prince George's Chamber of Commerce (2005-2007); currently serving as Chair of the Board of Directors of Kendal at Collington Life Care Community in Mitchellville, Maryland and Chair of the Dean's Board of Advisors for the University of the District of Columbia School of Business. Lyles served on the Bowie, Maryland City Council from 2004 to 2007. Lyles attended Iowa State University, and the University of the District of Columbia, receiving a BBA in Finance. He is a proud graduate of the Catholic University Columbus School of Law in Washington, D.C. and is licensed to practice in all courts of the District of Columbia and Maryland and before the Supreme Court of the United States. He has taught Employment Law as an adjunct professor at University of Maryland Global Campus since 2015. In his spare time he is an enthusiastic jazz guitarist. Lyles is married and the father of two adult daughters and three grandchildren.