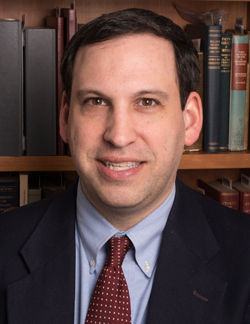 School
Columbus School of Law
Expertise
Religious Liberty
Free Speech
Abortion Law
Fourteenth Amendment
Mark L. Rienzi is a professor at The Catholic University of America, Columbus School of Law. Professor Rienzi teaches constitutional law, religious liberty, torts, and evidence. He has been voted Teacher of the Year three times by the student bar association.
Professor Rienzi's litigation and research interests focus on the First and Fourteenth Amendments, with an emphasis on free speech and the free exercise of religion. His scholarship on these issues has appeared in a variety of prestigious journals including the Harvard Law Review, Fordham Law Review, Emory Law Journal, Notre Dame Law Review, and George Mason Law Review.
As a litigator, Professor Rienzi has represented a range of parties asserting First Amendment claims in courts across the country. For fourteen years, Professor Rienzi represented parties challenging the Massachusetts abortion clinic buffer zone, finally prevailing in a 9-0 decision at the Supreme Court in McCullen v. Coakley (2014). Professor Rienzi also successfully represented pharmacists challenging an Illinois law forcing all pharmacists to sell the week-after pill and morning-after pill, and pro-life pregnancy centers challenging speech regulations.
Professor Rienzi is also Senior Counsel at the Becket Fund for Religious Liberty, a non-profit, non-partisan religious liberties law firm dedicated to protecting the free expression of all religious faiths. At the Becket Fund, Professor Rienzi has successfully represented a variety of parties at the Supreme Court including in Little Sisters of the Poor v. Sebelius (emergency order, 2014); Burwell v. Hobby Lobby (2014); Wheaton College v. Burwell (emergency order, 2014); and Holt v. Hobbs (2015). Professor Rienzi is currently representing the Little Sisters of the Poor and other religious petitioners in Zubik v. Burwell, which the Court will hear in March 2016.
Professor Rienzi is a widely sought after speaker on constitutional issues, particularly concerning abortion and the First Amendment. Professor Rienzi has been invited to discuss these issues at schools across the country, including Harvard, Yale, Stanford, Columbia, and Georgetown Law Schools. His writings on constitutional issues have appeared in The New York Times, Washington Times, USA Today, Roll Call, U.S. News and World Report, National Review Online, The New York Daily News, The Chicago Sun-Times, and the National Catholic Register. He has appeared on various television and radio programs, including CNN, NBC, ABC, FOXNews, and NPR.

Prior to joining CUA, Professor Rienzi served as counsel in the Supreme Court and Appellate Practice Group at Wilmer Hale LLP. Prior to joining Wilmer Hale, he served as law clerk to the Hon. Stephen F. Williams, senior circuit judge for the U.S. Court of Appeals for the D.C. Circuit. Professor Rienzi was an editor of the Harvard Law Review. He earned his J.D. from Harvard Law School and B.A. from Princeton University, both with honors.



Research and Writing
View Professor Rienzi's SSRN author page