May 30, 2023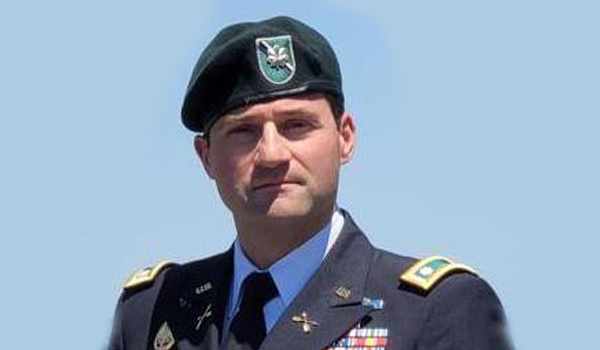 All branches of the U.S. Armed Forces emphasize the cohesion and camaraderie that those enlisted find while in service to the Union. For many servicemen, these become values for which they search upon returning to the civilian world. One such soldier, Erhan Bedestani '23, found them manifest in the supportive community of The Catholic University of America Columbus School of Law (Catholic Law).
At forty-two years old, Bedestani can boast an impressive resume. A bachelor's degree from Johns Hopkins, a master's degree from Georgetown, and a two-decade-long military career resulting in a military advisor assignment to the State Department are just a few inclusions that might catch a reader's eye. Yet, as Bedestani noted during an interview with Catholic Law, the experience that he had so far accrued could not on its own help him live purposefully once he concluded his military service. "I knew my time in uniform would eventually come to an end, and I wanted to continue to serve Veterans and Servicemembers," he explained. "To me, this meant earning a law degree and advocating for Veterans and Servicemembers on a number of issues, like disability benefits, discharge upgrades, and protecting their parenting rights."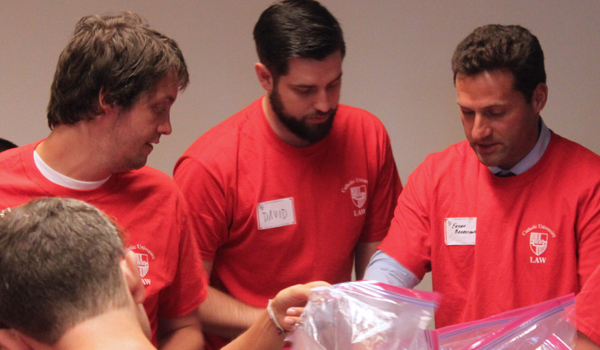 Impelled by this desire, Bedestani chose to pursue legal studies in the fall of 2019, while still actively serving in the U.S. Army. After having heard testimonials both from Catholic Law alumni and from attorneys who had worked closely with such graduates, he enrolled at Catholic Law, entering the Class of 2023's evening division.
What Bedestani saw as distinct about Catholic Law was a culture of excellence—something akin to what he had heard so many upper-level Army servicemen emphasize as the most essential element of any institution. Whenever he spoke with Catholic Law alumni, he found that each viewed Catholic Law as having "pushed them academically and prepared them for the rigors of serving as an attorney."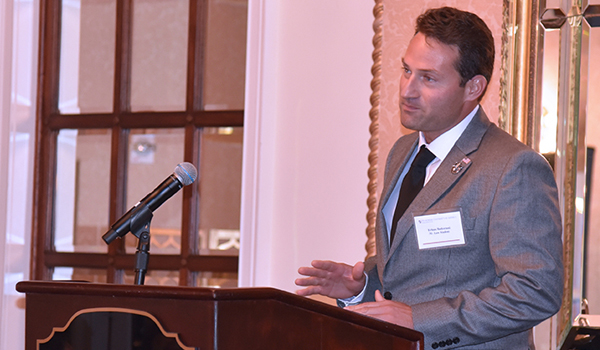 Indeed, Catholic Law's culture of excellence was visible almost immediately. The demands of law school—academic, professional, and social—caught Bedestani by surprise. "I knew that the coursework would be challenging, but I underestimated how much time I needed to work through the weekly material and what it took to come to class truly prepared," he commented. Of course, this was by no means the most difficult task to confront him—as a Green Beret, he and his Special Forces Detachment had served multiple combat tours in Afghanistan, where they clashed with the Taliban while working to bolster the country's police and military forces. Resolute to succeed at his studies without sacrificing his familial relationships and forfeiting his full-time job, he turned to the numerous support systems which Catholic Law offers its students. With the help of not only Dean of Students Katherine G. Crowley, but also various student and alumni mentors, Bedestani managed to regain momentum and achieve a steady pace through which he could succeed in all three areas.
Many of his professors also provided him academic support. The dedication for which they sacrificed their time to offer advice left a strong impact on Bedestani, who went so far as to mention one by name. "One in particular, Roger Hartley, met with me over a series of four weeks to understand how I was preparing, highlighted my strengths and weaknesses, and helped me to adapt my preparation process for class and exams," he remarked with pride. "By the spring of my second year, I really hit my stride."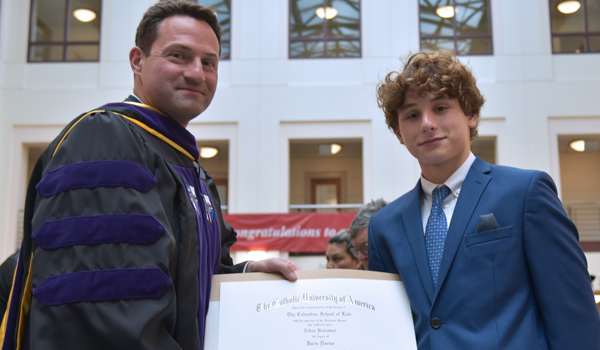 Yet his largest source of inspiration and support came from his son Brandon, now 14 years old. "It was a great experience for him to have this front row seat to me as a student while he is a student," Bedestani said, reflecting on how his experience impacted Brandon. "He witnessed my early mornings and the late nights reading and preparing notes for class the next day." He then paused and added, "Law school strengthened our already strong bond, and Brandon took away a number of important lessons. The experience reinforced the value of hard work, setting a goal and working incrementally towards achieving it. He understands the value of perseverance. He saw me dig deep, and I know he will dig deep in anything he puts his mind to."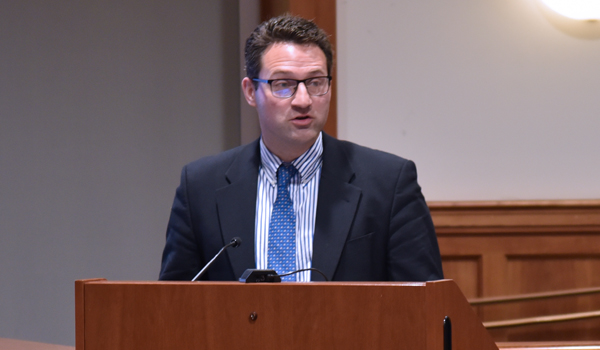 Bedestani concluded his four years of study at Catholic Law in May of 2023. By the time of his graduation, when he walked across the sanctuary of the Basilica of the National Shrine of the Immaculate Conception to receive his diploma, he had served as an associate editor for the Catholic University Journal of Law and Technology; procured acceptance into the Tillman Scholars Program as one of the Pat Tillman Foundation's 2022 recipients; and provided copious hours of pro bono work in Catholic Law's Columbus Community Legal Services Immigration and Refugee Advocacy Clinic, garnering real-world legal experience as well. "Under the direction for Professor Stacy Brustin, I and another student were paired up to work with immigration clients," he said, discussing this involvement. "It was the most rewarding and motivating experience. I came to law school because I wanted to help people." In fact, his efforts to help others earned him at his graduation the Michael F. Curtin Pro Bono Award, which recognizes one student from each division for actualizing Catholic Law's highest ideals through providing voluntary pro bono service to others.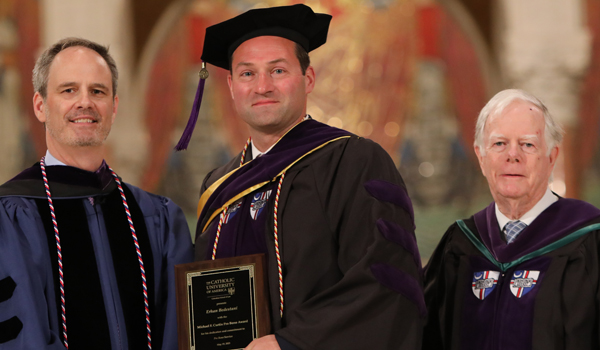 And, while his journey at Catholic Law has ended, his venture into the lawyering world has only now begun: His dedication has gained him a spot as judicial clerk of the Circuit Court of Montgomery County, MD, where he will help serve the state's 6th Judicial Circuit. Reflecting on these many achievements that Catholic Law helped add to his now much-longer resume, he expressed immense appreciation. "This institution challenged me, invested in me, and prepared me for the next chapter of my life, as an attorney," he said. "Now, it's my time to step up and add to the school's tremendous reputation."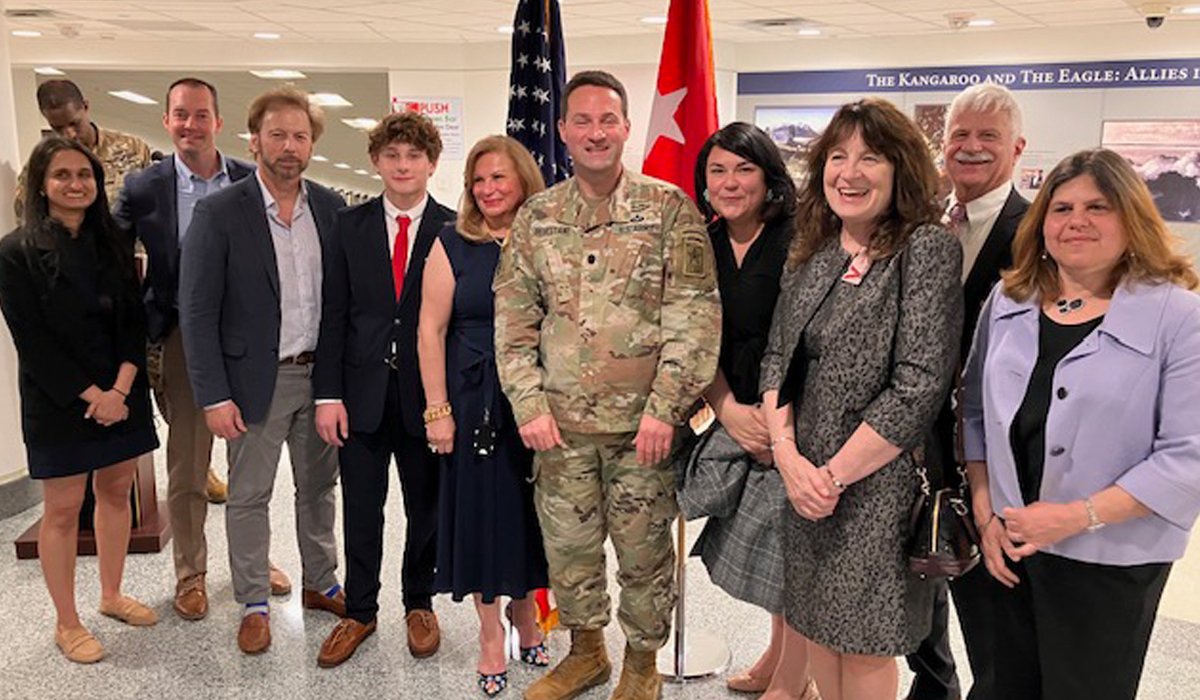 Members of the Catholic Law community at LTC Erhan Bedestani's retirement ceremony on May 5th, 2023 at the Army Pentagon.