June 28, 2022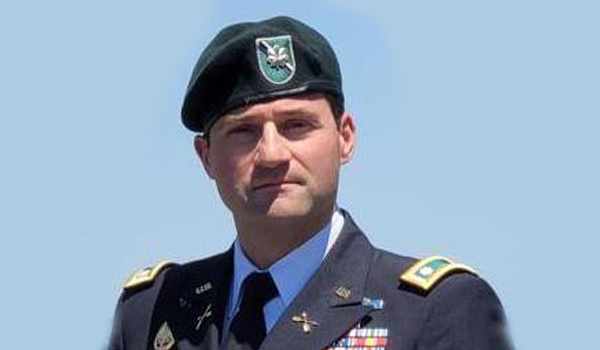 Rising fourth-year evening student Erhan Bedestani has been selected as a 2022 Pat Tillman Foundation Scholar. The Pat Tillman Foundation identifies remarkable military service members, veterans, and spouses, empowering them with academic scholarships, lifelong leadership development opportunities, and a diverse, global community of high-performing mentors and peers. These scholars are making an impact as they lead through action in the fields of healthcare, business, public service, STEM, education, and the humanities. Scholars are chosen based on their dedication to service beyond self (in and out of uniform), passion for intellectual growth, selfless commitment to leading, and determination to unite others. Tillman Scholars carry on Pat Tillman's legacy and are making an impact with effects that will ripple outwards for years to come.
While an undergraduate at Johns Hopkins University, Bedestani joined the Army Reserve Officer Training Corps (ROTC) program, and following graduation, he began his military career. After 20 years on Active Duty, Bedestani realized that at his core he was an advocate and driven to serve, so he applied and was accepted to Catholic Law. As a law student, his course work in constitutional law and family law has helped him refine his plan to create a nonprofit organization called Warrior Family Advocacy, which seeks to define the problems and generate solutions to the issues Veteran and service member parents face in family court, issues which are different from those faced by non-military parents. Veterans advocacy groups are not focused on this and rarely provide legal support for family court matters, so Veterans and service members find themselves uninformed and ill-prepared to advocate for their parental rights even when they have legal counsel because most times the legal counsel is uninformed about the military. This is a gap that needs to be filled with education, resources, and specific legal advocacy.
About this opportunity, Bedestani shared, "Selection as a Tillman Scholar will allow me to better highlight [issues faced by Veterans and service members in family law] and advocate for improved resources for Veterans and service members specific to family court, parenting plans, and custody decisions. I will devote my final year of law school to further researching this problem. Selection by the Tillman foundation as a 2022 Tillman Scholar is validation that this is a worthy cause and selection further motivates me to continue my hard work as a CUA Law student." He concluded, "Being selected as a Tillman Scholar is a reflection of the outstanding mentorship and legal education I receive as a student at the Columbus School of Law. Life is a team sport and CUA Law — to include the professors, fellow students, and administrators — has and continues to be the best teammate."
Click here for more information about the 2022 Tillman Foundation Scholars.