May 03, 2021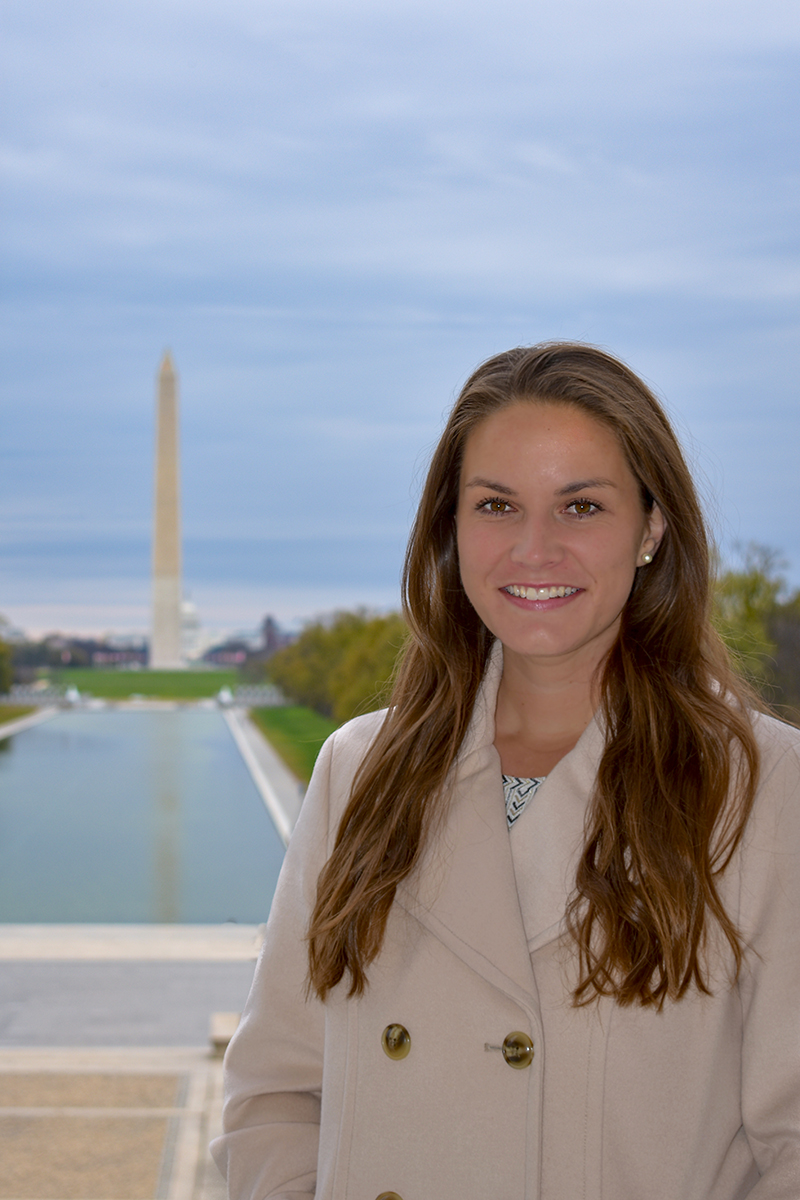 Catholic Law has a unique mission of service which, among other things, helps its students grow both as professionals and as people. This commitment to serving others is shared by Catholic Law students—including second-year law student Shelby Wood, whose established dedication to others has led her now to pursue a career in the armed forces. Wood has recently been selected into the Air Force JAG Corps - One Year College Program. During her upcoming 3L year, she will complete the AF-ROTC One Year Program with Detachment 130 out of Howard University. Following graduation, Wood will be commissioned to active duty in the Air Force JAG Corps. Recently, Wood took some time to reflect on her experience at Catholic Law and her pursuit of a career in the Air Force.
Wood is no stranger to service. After graduating from Palm Beach Atlantic University—where she played four years of varsity softball—Wood joined AmeriCorps NCCC. During the year-long service program, she served as a Team Leader in the Federal Emergency Management Agency (FEMA) Corps. Wood elaborated, "As a Team Leader for FEMA Corps, I led ten young adults as we traveled the nation serving on disaster response missions with FEMA. We responded to hurricanes Harvey (TX), Irma (FL), and Maria (Puerto Rico)." As her year spent responding to communities in the greatest need drew to an end, Wood felt that law school would be a natural next step for her. She explained, "I had taken an undergraduate course in constitutional law, which I enjoyed and exposed me to the challenge and complexity the study of law presents. This interest, in combination with the realization that I wanted to pursue a service-oriented career following my time with AmeriCorps, led me to pursue law school."
Wood knew she wanted a law school experience that would not only challenge her academically but also allow her to grow in her faith. The Law School's Catholic identity, commitment to developing service-minded advocates, and great D.C. location put Catholic Law at the top of her list. Wood started at Catholic Law in 2019 and quickly found her place within the Law School community. Over the last two years, Wood has taken advantage of both on- and off-campus opportunities to pursue her passions and hone critical advocacy skills.
On-campus, Wood has participated in several co-curricular activities. She is a member of The Catholic University Law Review and served as a Staff Editor of Volume 70. This year, Wood also served as Military Chair for The Military and National Security Law Students Association (M&NSLSA). The position has allowed her to build a professional network and create opportunities in the field for herself and her peers. Wood has also taken advantage of Catholic Law's location to explore practical work experiences within the District. In the summer of 2020, Wood worked pro bono with The Veterans Consortium which provides assistance to unrepresented veterans who have filed appeals at the U.S. Court of Appeals for Veteran Claims. Wood explained her work, "I reviewed veterans' VA records and drafted internal memos to determine the Veterans' suitability for appealing VA decisions and pro bono placement." That same fall, as she began her second year at the Law School, Wood took an externship with the Air Force JAG Corps at Joint Base Andrews. About the experience, she shared, "During this experience, I worked with both Trial Defense Headquarters for the Air Force JAG Corps and the Area Defense Counsel for JB Andrews."
With so much of her work outside of the classroom focused on military and veteran affairs, her pursuit of and acceptance into the Air Force JAG Corps - One Year College Program should come as no surprise. After learning about the opportunity at a JAG panel hosted by Catholic Law's M&NSLSA, Wood knew this would be a wonderful opportunity for her. She noted, "The OYCP Program allows me to begin training while in law school. This unique opportunity to network and build relationships with fellow aspiring officers within the JAG Corps, but mostly in other career fields, is something I'm looking forward to!" Wood is also cognizant of the fact that not everyone is afforded the chance to be a part of the program. She shared, "It is truly an honor. I'm very grateful to have been selected and provided the opportunity to serve our country as a JAG officer. I'm excited about this career and serving as a legal advocate for our nation's Air Force and servicemembers." Additionally, Wood was grateful for the help and support of professors and students who have previously served or who are also pursuing JAG careers. She added, "[They] were tremendous resources and representatives of the career path."
Looking forward to the busy year ahead of her, Wood relies on movement and getting outside as a means of maintaining balance while managing the stress and demands of law school. With just one year left at Catholic Law, Wood looks to take advantage of every opportunity and looks forward to her future career of service.