February 05, 2021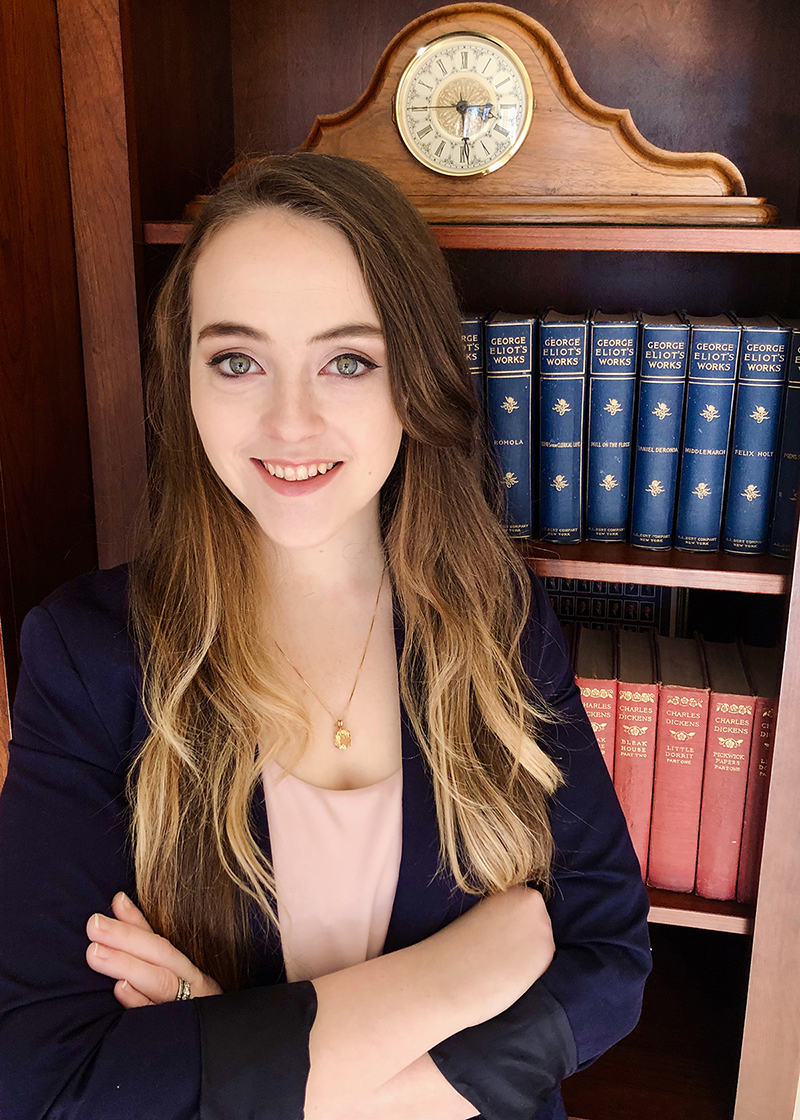 Loyalty, charity, civic responsibility. These words define the values instilled in third-year Catholic Law student Mary Turgeon from a young age by her military family. It came as no surprise then that Catholic Law felt like the right fit for her when choosing a law school. The Law School's dedication to the community through public service aligned strongly with Turgeon's desire to serve others. Now, in her final semester of law school, Turgeon reflects on her experience at Catholic Law and how it has prepared her to pursue a career in the public sector.
Turgeon has always sought to use her education and skills to benefit her community, but after volunteering at an immigration clinic in Boston, Massachusetts, she realized that she could best serve others by providing legal advice and representation to those in need. She became determined to attend law school. She shared, "I was inspired by the tireless dedication of the attorneys and the endless hope the clients demonstrated time and time again. Following my internship at the clinic, I knew that true and effective change comes when people worked together to make a meaningful difference." After earning a double degree in History and Theatre from the College of William and Mary, Turgeon knew she wanted a law school experience that would foster her dedication to community while also providing an active alumni network in the Washington, D.C., area. She joined the Catholic Law Class of 2021 and found herself at home.
From her days as an eager 1L, Turgeon has leaned into what it means to be a part of the Catholic Law community—finding ways to get involved and taking advantage of both on- and off-campus opportunities. Turgeon participates in several co-curricular activities on campus. For two years she has served as President of Women's Law Caucus, been a member of the Catholic University Law Review (serving as a staffer on Vol. 69 and a Note and Comment Editor for Vol. 70), and participated in the Moot Court Association as both a competing member and the Vice-Chancellor of the Seigenthaler Sutherland National First Amendment Moot Court Competition. Turgeon has also maintained active membership in Students for Public Interest Law (SPIL) and the Military and National Security Law Students Association.
Turgeon has also found opportunities to explore her interests in the public sector. With campus within reach of the Capitol, Turgeon has taken advantage of practical experiences the city is able to offer. In her three years at Catholic Law, Turgeon has five government internships—each providing her with a unique and valuable learning experience. Of those experiences, she noted, "I have had the opportunity to work in each branch of the federal government and look forward to continuing my time in the government after graduation."
Of course, law school can be difficult—bringing daily challenges to the lives of students. Turgeon has maintained a sense of balance by relying on friends and family for support. "I found a truly supportive group of peers at CUA that has been such a lifeline over the past three years." Even with the COVID-19 and the Law School's adjustment to a largely virtual experience, Turgeon has stayed connected to her peers. "I keep in touch with several of my classmates on a daily basis." Turgeon has also made a point to establish a routine that creates a clear separation between work and home which allows her to stay calm and focused as she navigates online classes and telework.
With just a few months until graduation, Turgeon is appreciative of all of the opportunities, experiences the Law School has provided. She added, "I am grateful for all my professors and peers who have taught me so much throughout my three years at the Columbus School of Law!"