November 16, 2020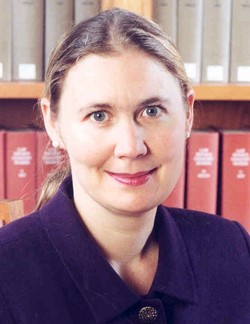 The faculty at Catholic Law is comprised of educators who are experts in their fields and bring with them an array of diverse perspectives through which they study and approach the law—sharing their unique lens with those they teach. For Professor Susanna Fischer, her "view of American Law is infused with a comparative perspective because [her] first legal studies, qualification as a lawyer and legal practice all took place in the United Kingdom. Only after practicing for six years in London as a barrister did [she] come to the United States and encounter the study and practice of American law."
Fischer's main area of interest is "law relating to creativity, including copyright, visual art, music, entertainment, and media," but she loves teaching Comparative Law. This year, the course will focus on comparing French and Israeli legal systems with that of the United States. Fischer's comparative interests have also "led to participation in a number of academic programs and projects abroad including in the United Kingdom, Portugal, Poland, and Iceland." Working closely with Professor Lucia Silecchia, Fischer is Director of the Law School's International Human Rights Summer Law Program in Rome, Italy. Despite an interruption to the program's summer schedule due to the COVID-19 pandemic, Fischer is looking forward to next year and is hopeful that the program will resume at that time.
Fischer first began teaching while working as a barrister in London. Fischer shared, "since barristers are self-employed, it takes a while to build up a steady income. So it is typical for young barristers to do various types of outside work." Fischer enjoyed her time teaching an undergraduate contracts course at London Guildhall University, and what began as a way to supplement her income, ultimately shifted Fischer's commitment to pursuing academia.
Since 1999, Fischer has been a member of the Catholic Law faculty where she teaches or has taught copyright law, art law, entertainment law, introduction to intellectual property law, international intellectual property law, constitutional law, comparative law, comparative constitutional law, civil procedure, and music law. Fischer is also looking forward to teaching a social media law course in the spring of 2021. Fischer's decision to join Catholic Law's faculty stems from the Law School's intellectual tradition, rooted in Catholic social justice, "I chose to come to work at Catholic University because of the attention this university and law school gives to social justice and the values underlying the law. I am very interested in Catholic social teaching and how it can be a helpful approach to resolving questions involving legal rights in creative works, the dissemination of knowledge, and protection for cultural property."
As Fischer continues to teach the next generation of lawyers, she believes that there are a few key marks of a good advocate. Fischer believes, "strong analytical and writing skills and the ability to communicate complex ideas in a simple and understandable way are critical to effective lawyering. Creativity is helpful. Good judgment, discipline, self-control, and adherence to ethical and professional standards are also essential." Honing these very skills makes for good law students as well. In Fischer's opinion, "These skills are not innate but developed and improved through a lot of practice. Perseverance, effort, resilience, and enthusiasm will pay off, even if law school and life never happen exactly as planned."
When asked what advice she would give to law students, Fischer shared, "good students also carve out space for themselves so they don't burn out. No one should ignore the importance of a healthy diet, regular exercise, and spending time with friends and family." Fischer even takes her own advice. As a sports enthusiast and self-proclaimed "soccer-mom," Fischer finds time to participate in triathlons, be on the soccer pitch, and cheer on her favorite teams Bayern München and Chelsea.