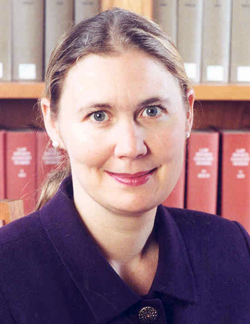 School
Columbus School of Law
Expertise
Copyright Law
Constitutional Law
Art Law
Media Law
Cyberlaw
Susanna Frederick Fischer has practiced law on both sides of the Atlantic, as a New York attorney and an English barrister. Her primary areas of practice and her main research interests are copyright law, art law, media law, cyberlaw, and constitutional law, from a comparative law perspective.
Professor Fischer received her legal education at Merton College, University of Oxford, where she received a B.A. in jurisprudence, and the University of Virginia School of Law, where she was awarded the LL.M. degree.  She also studied at Princeton University, where she earned an A.B. in history, magna cum laude. 
She practiced for five years as a barrister in London, England, at 5 Raymond Buildings (currently headed by Desmond Browne QC and Matthew Nicklin QC).  She represented clients before all levels of English courts and tribunals, including the House of Lords.  In London, she also worked part-time as a Night Lawyer providing pre-publication legal advice for News International plc, the publishers of The Times, The Sunday Times, and the Sun.  She also taught Contracts at London Guildhall University. She later spent three years practicing intellectual property law as an associate at two New York City law firms, Skadden, Arps, Slate, Meagher & Flom LLP and Paul, Hastings, Janofsky & Walker LLP.
Professor Fischer joined the faculty of Columbus School of Law in 1999, where she teaches or has taught copyright law, art law, entertainment law, introduction to intellectual property law, international intellectual property law, constitutional law, comparative law, comparative constitutional law, and civil procedure.  She has taught courses on intellectual property law in Krakow, Poland, for the American Law Program jointly run by the Columbus School of Law, The Catholic University of America and the Jagiellonian University, as well as for the summer program in International Business and Trade held at the Jagiellonian University. She has also taught a summer course at the University of Lisbon in Portugal. 
She served as the native English language consultant for a translation of the Polish Civil Code into English, published by Wolters Kluwer Polska in 2012. 

    
Research and Writing
Professor Fischer has authored book chapters and articles in legal journals, including:
"Who's the Vandal? The Recent Controversy over the Destruction of 5Pointz - How Much Legal Protection Should the Law Give to Graffiti/Aerosol/Street Art?," forthcoming
The John Marshall Review of Intellectual Property Law
(2015).
"Mertonians in Law," Merton College
Postmaster
, University of Oxford 60 (2014)
"Playing Poohsticks with the British Constitution? The Blair Government's Proposal to Abolish the Lord Chancellor," 24
Penn State International Law Review
257 (Fall, 2005), reprinted in part in Mary Ann Glenson, Paolo Carozza, and Colin B. Picker, Comparative Legal Traditions, Text, Materials and Cases on Western Law (4
th
ed. West, 2014)
"Special Report, The Implications of Talent Agency Licensing," Newseum Institute, Sept. 24, 2014 (jointly authored with Seth Williams)
Rights of publicity and visual arts in U.S. Law: Finding the right approach, in Justyna Balcarczyk, ed., Dobra Osobiste w XXI Wieku Nowe Warto?ci, Zasady, Technologie/Rights of Personality in the XXI Century New Values, Rules, Technologies 98 (Wolters Kluwer, 2012)
English language consultant, Kodeks Ciwilny/Polish Civil Code (Wolters Kluwer Polska 2012)
Threatening the Founding Ideal of a Republic of Letters: An Assessment of the Supreme Court's Copyright Decisions Over the First Decade of the Twenty-First Century, 5 Akron Intellectual Property Law Journal 205 (2011) 
International Cyberlaw, in Hossein Bidgoli, ed., 2 The Handbook of Technology Management, (Wiley 2010)
The Knowledge Society and the Knowledge Divide,
Dario Moura Vicente and Marshall J. Breger, eds., 2 Direito Comparado Perspectivas Luso-Americanas/Comparative Law: Portuguese-American Perspectives 245 (Almedina, Coimbra, Portugal, 2010) 
Catholic Social Teaching, the Rule of Law, and Copyright Protection, 4 Journal of Law, Philosophy and Culture 63 (2009) 
Introduction to Symposium Volume – The Rule of Law in the Information Age: Reconciling Public Rights and Private Interest,
4 Journal of Law, Philosophy and Culture 29 (2009) 
The Law Supporting Technological Protection for Copyrighted Works: An American Perspective, in Dario Moura Vicente, ed., 1 Direito Comparado Perspectivas Luso-Americanas/Comparative Law: Portuguese-American Perspectives 187(Almedina, Coimbra, Portugal, 2006) 
Ruth Bader Ginsburg, A Biographical Essay,
in Paul Finkelman et al., The Encyclopedia of American Civil Liberties (4 vols., Routledge, 2006)
Between Scylla and Charybdis: The Disagreement Among the Federal Circuits Over Whether Federal Law Criminalizing the Intrastate Possession of Child Pornography Violates the Commerce Clause, 10 Chapman University School of Law Nexus: A Journal of Opinion 99 (2005). 
Dick Whittington and Creativity: From Trade to Folklore, from Folklore to Trade, 12 Texas Wesleyan Law Review 5 (Fall, 2005) 
Internet Gambling, in Hossein Bidgoli, ed., 2 The Handbook of Information Security (Wiley, 2005) 
 
With Intent to Infringe: New focus on purpose of P2P software distribution will keep lawyers busy,
Legal Times, July 4, 2005, at 42. Reprinted in The Recorder, July 8, 2005, New Jersey Law Journal, July 25, 2005, Entertainment Law & Finance 3 (Aug. 2005)
Experts' Comments (Comments of Susanna Frederick Fischer),
in Assessment of the Mongolian Civil Procedure Code (ABA Asia Law Initiative) 18-23 (Feb. 2005)
An Update on the Current State of the File Trading War for Universities: Legal Uncertainty and Educational Opportunity,
CUA Counsel Online (Spring 2004) (featured on front page)
Does the Child Online Protection Act Violate the First Amendment?,
ABA Preview of United States Supreme Court Cases 289 ( Feb. 16 2004) (featured on cover)
Does the Children's Internet Protection Act Induce Public Libraries to Violate the First Amendment?,
ABA Preview of United States Supreme Court Cases 309 (Feb. 21, 2003)
Rethinking Sullivan: New Approaches in Australia, New Zealand, and England, 34 George Washington International Law Review 101 (2002) 
Crusading Against the Dinosaurs: A Review of The Future of Ideas, by Lawrence Lessig, 10 CommLaw Conspectus 251 (2002) 
The Global Digital Divide: Focusing on Children, 24 Hastings Communications and Entertainment Law Journal 477 (Summer, 2002) 
No Need to Fear Abuse,
Legal Times 25 (Sept. 9, 2002)
Choosing Appropriate Web Courseware for Your Law School Class,
Jurist "Lessons from the Web",
(April 2002). I was invited to publish this article by Bernard Hibbitts, the editor of Jurist, after presenting on this topic at the CALI conference in June 2000. It has been cited in Marie Stefanini Newman,
Not the Evil TWEN, How Online Course Management Software Supports Non-Linear Learning in Law Schools,
5 J. High Tech. L. 183, 215 n. 176 (2005)
Saving Rosencrantz and Guildenstern in a Virtual World? A Comparative Look at Recent Global Electronic Signature Legislation,
7 Boston University Journal of Science & Technology Law 195 (Summer, 2001), reprinted in part in Margaret Jane Radin, John Rothschild, R. Reese, and Gregory Silverman, Internet Commerce: The Emerging Legal Framework (2004).
May the Child Online Protection Act Rely on Community Standards to Identify Material that is Harmful to Minors?,
ABA Preview of United States Supreme Court Cases, 170 (Nov. 19, 2001) (featured on cover)
Napster: Avoiding Death by Injunction,
30 CCH Law and Technology 1 (Mar. 2001)
Deleting the First? Courts Guard IP Rights, But Limit Expression,
Intellectual Property 56 (Oct. 16, 2000)