April 05, 2017
CUA Law Professor
Elizabeth Winston
contributed a chapter entitled "Patent Pledges at the International Trade Commission" to
Patent Pledges - Global Perspectives on Patent Law's Private Ordering Frontier
. This book has recently been published by Edward Elgar Publishing. See below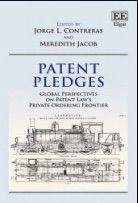 Patent Pledges at the International Trade Commission
By: Elizabeth I. Winston
Catholic University of America (CUA) - Columbus School of Law

Abstract

The United States International Trade Commission ("ITC") investigates alleged trade violations of Section 337 of the Tariff Act of 1930, as amended (19 U.S.C. § 1337) including importation of products infringing patents. This paper seeks to explore the impact of voluntary public commitments made by patentees, limiting the enforcement and exploitation of their patents, on the role of the ITC in protecting domestic industry. The ITC exists to protect domestic industry, and not the patent. A patent pledge may preclude the seeking of injunctive relief, but that goes to the patent itself. Exclusion orders are an appropriate remedy for infringement of a patent subject to a patent pledge, unless the exclusion order is contrary to the public interest. An exclusion order is not an injunction, and can be not conclusively precluded by a patent pledge. The exclusion order is a statutory mandate that can be overcome only by evidence that the statutorily enumerated public interest factors are frustrated. The availability of an exclusion order remains critical to a continuing balance of encouraging contribution to standard setting bodies, while still allowing access to standards, preventing unfair competition and protecting our domestic industry.
Click here to access the full chapter.