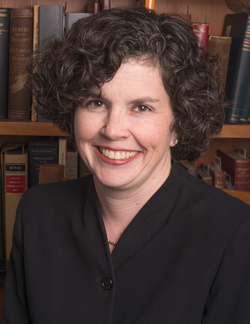 School
Columbus School of Law
Expertise
Intellectual Property
Patent Law
Trademark Law
Contracts
Professor Winston came to the Columbus School of Law at The Catholic University of America in 2006, having previously been Director of the Center for Intellectual Property Law and assistant professor of law at Whittier Law School.  She currently teaches Contracts, Patent Law and Trademarks and Unfair Competition.  In 2007, the students at the law school voted Professor Winston the Outstanding Professor of First Year Classes, and again in 2009.

A frequent speaker on a variety of intellectual property topics, Professor Winston has spoken at the Federal Circuit Judicial Conference, the Intellectual Property Owners Association's Annual Meeting, the Joint Department of Justice and Federal Trade Commission and United States Patent and Trademark Office Seminar Series, the Western Regional Meeting of the American Chemical Society, and the Music Library Association's Annual Meeting.  She has addressed audiences at the University of Akron, American University, DePaul University, George Washington University, University of Maryland University College, Michigan State University, Texas Wesleyan University, Tulane University, and Washington University in St. Louis.  

Professor Winston earned her J.D. at University of Virginia School of Law, and an S.B. from the Massachusetts Institute of Technology. While in law school, she was managing editor of The Journal of Law and Politics. Two clerkships followed upon her graduation, first with the Honorable James T. Turner of the United States Court of Federal Claims, followed by two years with the Honorable Paul R. Michel of the United States Court of Appeals for the Federal Circuit.  After her clerkships, Professor Winston spent three years in private practice as an associate with Covington & Burling in Washington, D.C. 



Law Review Articles and Essays:
Bargaining for Innovation, 66 Villanova Law Review 119 (2021).  
Information Age Technology, Industrial Age Laws, 87 Tennessee Law Review 483 (2020).  
Standard Essential Patents at the International Trade Commission, The Cambridge Handbook of Technical Standardization Law, Vol. 1 – Antitrust and Patents (Jorge L. Contreras ed., Cambridge University Press, 2017).
Patent Pledges at the International Trade Commission, Patent Pledges: Global Perspectives on Patent Law's Private Ordering Frontier (Jorge L. Contreras and Meredith Jacob, eds., New York: Edward Elgar, 2017).
Patent Boundaries, 87 Temple Law Review 501 (2015). 
Sowing the Seeds of Protection, 2014 Wisconsin Law Review 445 (2014).  
A Patent Misperception, 16 Lewis and Clark Law Review 289 (2012).  
The Technological Edge, 6 Akron Journal of Intellectual Property 361 (2012).  
Differentiating the Federal Circuit, 76 Missouri Law Review 813 (2011).  
Clarifying the Doctrine of Inequitable Conduct, 10 The John Marshall Review of Intellectual Property Law 290 (2011). 
The Flawed Nature of the False Marking Statute, 77 Tennessee Law Review 111 (2009).
 Selected for republication in the Intellectual Property Law Review (Thomson West Group 2010) as one of the best intellectual property law review articles published in 2009.
What If Seeds Were Not Patentable?, 2008 Michigan State Law Review 321 (2008).  
Why Sell What You Can License?: Contracting Around Statutory Protection of Intellectual Property, 14 George Mason Law Review 93 (2006).