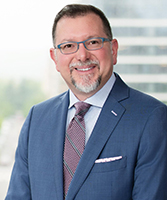 "Inspired by my educator mother and lawyer father and brother, and applying the knowledge and skills adopted through my Catholic education, I have strived to be a "service leader," with a goal of helping individuals achieve their fullest potential while working toward common goals in partnership with organizations, whether it be my clients, my law firm, my profession or my community. This philosophy is very much reflective of our law school's commitment to service and empowers the good works of our alumni every day."
Andrew Palmieri is a Partner in the Real Estate Group at Saul Ewing LLP, resident in the firm's Washington, D.C., office. He represents owners, developers, and lenders in complex commercial real estate transactions, including the acquisition, financing, development, leasing, and disposition of office, multi-family residential, hospitality, and renewable energy projects, both nationally and throughout the Washington, D.C., metropolitan area. With 35 years of experience in commercial real estate, Palmieri works collaboratively, and negotiates assertively, to help his clients achieve positive results. He focuses with clients on closing deals in an efficient and economical manner, helping them assess and mitigate risks that are in line with their business goals. Utilizing, in part, his work with nonprofit boards and as the former co-office managing partner for Saul Ewing's Washington, D.C., office, Palmieri has experience in assembling and managing a team of complementary legal and industry skill sets to navigate complex transactions from conception to completion.
A Past Chair of the American Bar Association Section of Real Property Trust and Estate Law, and the President-Elect of the American College of Mortgage Attorneys, Palmieri has garnered a national reputation for excellence in his field and demonstrated a significant commitment to the advancement of the bar and the industry in which he serves. Palmieri also served in the American Bar Association House of Delegates as a Section Delegate for the Section of Real Property Trust and Estate Law. Palmieri is listed among The Best Lawyers in America list for Real Estate Law; he also is named in the International Who's Who of Real Estate Lawyers and is a Super Lawyer for Virginia and the District of Columbia.
Palmieri has extensive experience serving on non-profit boards and advising non-profit clients. Locally, in his community of Alexandria, Virginia, Palmieri is a Past Chair of the Alexandria Chamber of Commerce, for which he is presently pro bono General Counsel. He has also served for over 25 years as the pro bono General Counsel to the Alexandria Animal Welfare League, from whom he received the 2019 Animal Champion Award for his many years of service. His past service includes a role as the Vice Chair of the Alexandria Industrial Development Authority; a former Board member for the Alexandria Economic Development Partnership, and as Past Chair of the Alexandria Waterfront Committee (now Commission). Palmieri is also currently a Trustee for NOVABIZPAC, a political action committee for the Northern Virginia Chamber of Commerce, and has previously served as a Trustee for the Federal City Council in the District of Columbia.
Much of Palmieri's volunteer commitments have been centered on cradle-to-career education issues, as best exemplified locally through his service as a Past Chair and eight-year Board member for The Campagna Center, and internationally, as Trustee Emeritus to the Board of Trustees for The American University of Rome, for which Palmieri has served in many capacities, including Board Vice Chair since 2001.
Palmieri is admitted to practice law in the District of Columbia and the Commonwealth of Virginia. He received his undergraduate degree from St. John's University, New York, in 1984 and his law degree from The Catholic University of America, Columbus School of Law, Washington, D.C., in 1987, for which he is a past member of the Board of Visitors.
Palmieri is blessed to be married to his wife of three years, Denise Moralez Palmieri, with whom he shares a stepson, Logan. In his spare time, Palmieri golfs poorly and crafts barrel-aged cocktails.