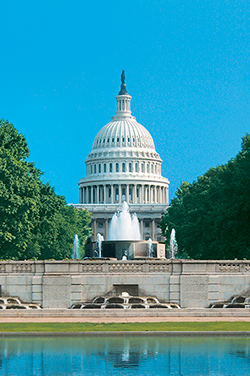 Benefits of the Columbus School of Law's location in Washington, DC
Washington, D.C., is the ideal setting for the study of law. As a student at The Catholic University of America Columbus School of Law (Catholic Law), you are within easy reach of the enormously beneficial study, externship, and networking opportunities that come with earning a J.D. in the nation's capital.
Studying law in the nation's capital affords students the chance to experience numerous aspects of the legal profession. Students can observe Capitol Hill in action, or earn class credit via externships with vital regulatory agencies such as the Federal Trade Commission, the Securities and Exchange Commission, Federal Communications Commission and the National Labor Relations Board, to name just a few. 
Click here to learn more.
Juris Doctor (J.D.)
The Catholic Law J.D. curriculum combines a strong theoretical foundation with sophisticated practical training. Students learn legal doctrine in intellectually challenging classes. They acquire real-world skills through clinical and experiential programs. Click on the links below to learn more about our Full and Part time programs, as well as some of the Joint Degree, Certificate, and Clinic & Externship programs Catholic Law offers.

Master of Laws (LL.M.)
Through the law school's extensive curricular offerings, LL.M. candidates enhance their knowledge for practice by acquiring significant expertise in the area of specialization they have selected. Catholic Law offers the following concentrations: Law and Technology, Securities Law, or Comparative and International Law. Click here to learn more.
Also available from Catholic Law, an American LL.M. degree offered in cooperation with Jagiellonian University.
 
Master of Legal Studies (M.L.S.)
The M.L.S. degree program enhances the ability of professionals to work with lawyers and legal issues, to gain a deeper knowledge of a particular legal field, and to understand laws and regulations. Students can choose to concentrate in the fields of: Compliance and Corporate Responsibility, Criminal Justice, Employment and Human Resources, Intellectual Property, Political Law, and a General Law option. Click here to learn more. 
Explore Catholic Law ...
 Schedule a tour of the law school and sit in on a class.
Review Catholic Law's Learning Outcomes.
Discover a supportive Part-time Evening Program.
Learn about Catholic Law's Diversity and Inclusion Advisory Council.
Check out our Frequently Asked Questions page

View our Admissions Profile sheet.
View Catholic Law's Viewbook.
Learn about our Mentor Programs.
View a selection of various Accolades about Catholic Law.
You can also sign up to receive further information about Catholic Law in the mail.