An Accommodating, Supportive, and Quality Learning Environment
Catholic Law has a thriving Part-time Evening Division J.D. Program. Designed around the needs of working professionals looking to complement their current careers or begin a new one, all classes meet between 6:30 and 9:30 p.m., Monday through Thursday.
The evening division's diversity features students who are professionals from many industries and backgrounds. They hold various degrees such as PhDs, MDs, Master's, and Bachelor's. Some have always wanted to work towards a law degree, while others found a law degree would help open new career opportunities for themselves. And in some cases, they are individuals who have focused on raising a family and have now decided to work on their careers.
The Part-time Evening Division J.D. Program takes four years to complete and having time management skills is a plus. Catholic Law features a supportive faculty and staff to help students with the adjustment of managing their law school experience and their full-time job. Students enrolled in the evening division are required to at least 11 semester credit hours and no less than 8 semester credit hours. In order to be eligible for graduation, students enrolled in the evening division must complete 87 semester credit hours.
Students who are part of the Evening Division are invited to participate in the various Student Organizations at Catholic Law. There is also an Evening Law Students Association (ELSA), which was founded in 1993 to represent our evening-division students and promote their extracurricular activities, address their special academic concerns, and enhance their legal education. ELSA works to encourage equitable access to all academic and extracurricular activities for evening law students, as well as sponsoring academic and social programs. To contact ELSA, e-mail: ELSA@law.edu.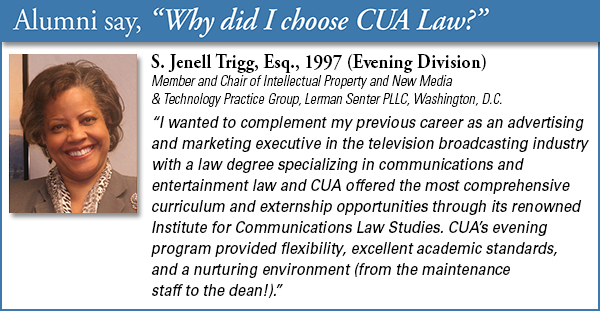 Benefits of Catholic Law's location in Washington, D.C.
Washington, D.C., is the ideal setting for the study of law. As a student at the Columbus School of Law, you are within easy reach of the enormously beneficial study, externship, and networking opportunities that come with earning a J.D. in the nation's capital. The Law School facility is within easy walking distance of the Brookland/CUA Metro Station, which is on the red line. This makes commuting from a job in Washington, D.C., to your evening courses manageable. For those who wish to drive, there is a parking garage attached to the law school facility.
Career Counseling, Clinics, and Externships
The Office of Career and Professional Development maintains evening hours during the academic school year to provide counseling for evening division students. OCPD summer hours are by appointment only. Students enrolled in the evening division may participate in other clinics and externships based upon the student's flexibility. Please note that participation in day activities will require the student to make the appropriate arrangements with their employer.