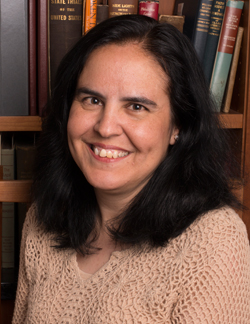 Professor Lucia Ann Silecchia, Director
Professor of Law
The Catholic University of America
silecchia@law.edu
Professor Silecchia has taught at Catholic University's Columbus School of Law since 1991. She has been an ordinary professor since 2004, and served as the law school's Associate Dean for Academic Affairs in 2004 and 2005. She also directs Catholic University's Summer Law Program in Rome. From September 2015 to August, 2017, she served as Catholic University's Vice Provost for Policy.
In December, 2016, she began service as an Expert to the Permanent Observer Mission of the Holy See to the United Nations. Since the fall of 2016, she has also been a Faculty Fellow and Academic Advisory Group Member of Catholic University's newly established Institute for Human Ecology.
Professor Silecchia received her B.A. degree summa cum laude from Queens College (C.U.N.Y.) and her J.D. from Yale Law School where she was a Francis Coker Teaching Fellow, senior editor of The Yale Law Journal, and current topics editor of The Yale Law & Policy Review. After law school, she was a litigation associate at Rogers & Wells (now Clifford, Chance) in New York City.
During her 2000-2001 sabbatical, she spent the fall semester as a Visiting Scholar at Yale Law School and the spring term in Rome conducting research on environmental ethics issues from the perspective of Catholic social thought. Her 2007-2008 sabbatical saw travel to Poland, Belgium, the Netherlands, Luxembourg, Australia, New Zealand, Austria, Portugal, Spain, and Italy.
Since December 2016, she has volunteered as an Expert to the Permanent Observer Mission of the Holy See to the United Nations assisting on matters related to ecology, the elderly, and people with disabilities.
In April 2007, Prof. Silecchia was one of nine Americans to participate in a Vatican conference on Climate Change and Development, organized by the Pontifical Council for Justice and Peace. She has participated in the Association of Religiously Affiliated Law Schools, and hosted the 2008-2009 Conference on Catholic Legal Thought.
Professor Silecchia has written in the areas of environmental law and ethics, elder law, Catholic social thought, legal education, law and literature, and legal writing. She has presented at national and international conferences for legal educators, law librarians, lawyers, religious groups, students, and environmental professionals. She has also participated in projects of the Pontifical Council on Justice and Peace and the Environmental Justice Project of the U.S. Catholic Conference; assisted the American Bar Association's CEELI Project in critiquing draft business association laws for Estonia; taught in Catholic University's cooperative programs at Jagiellonian University in Cracow, Poland; and lectured in Portugal as part of Catholic University's U.S. - Portuguese Law Initiative at the University of Lisbon.
She provides commentary to television, radio and print media outlets on matters related to religion, environmental ethics, elder law, and Catholic social thought.
She was named one of three national "Persons of Distinction" by the Association of Legal Writing Directors and was Catholic University's "Mirror of Justice Scholar" in 1996. She has also been a member of the teaching faculty for international law students in the Washington D.C.-based Institute for United States Law.
Professor Silecchia is admitted to the bars of New York, Connecticut, the District of Columbia, and the Supreme Court of the United States.
In 2015, she received the Distinguished Alumna Award from the Queens College Political Science Department for teaching that "prepares your own students to combine faith with a passion for justice."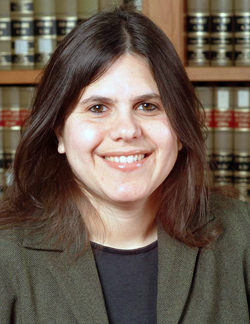 Stacy L. Brustin
Associate Professor of Law
The Catholic University of America
brustin@law.edu
Stacy Brustin teaches in the General Practice Clinic of Columbus Community Legal Services, one of the law school's on-campus clinical education programs. She supervises students handling civil cases in D.C. Superior Court and before the D.C. Office of Administrative Hearings. She specializes in domestic relations, employment, and public benefits matters. She also conducts presentations on access to justice and poverty law.
Professor Brustin has published articles in the areas of family law, professional responsibility, and clinical legal education. She is also the Faculty Director of the Masters in Law (LL.M) Program at CUA.
Professor Brustin came to the Columbus School of Law in 1991. While at Catholic University, Professor Brustin served as Associate Dean for Academic Affairs from 2006-2009 and has taught The American Litigation Process at the American Law Institute, Jagellonian University, Krakow, Poland. Professor Brustin is active in the D.C. Bar where she currently serves as an appointed member of the D.C. Judicial Evaluation Committee. She is an appointed member of the D.C. Child Support Commission and the Child Support Rules Committee for the Superior Court of the District of Columbia.
Professor Brustin received her B.A. from Tufts University and a J.D. from Harvard Law School. She was awarded a Ferguson Post-Graduate Fellowship from Harvard to study human rights and community legal education in Mexico. Upon her return to the United States, she began working as a staff attorney at Ayuda, Inc., a non-profit legal services agency serving the immigrant and refugee community in Washington D.C. In 1991, she founded the Hermanas Unidas (Sisters United) Community Education Project, a program of Ayuda, Inc., designed to help immigrant survivors of domestic violence advocate for themselves and their families.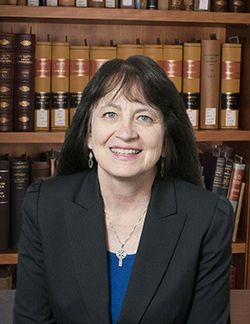 Professor Sarah Helene Duggin
Professor of Law
The Catholic University of America
duggin@law.edu
Prior to coming to Catholic University's Columbus School of Law, Sarah Duggin was Vice President & General Counsel of the National Railroad Passenger Corporation (Amtrak). Her duties included managing a 150-person law department with responsibility for corporate transactions, litigation, labor and employment, disciplinary hearings, EEO investigations, and nationwide claims administration, as well as advising Amtrak's Board and Chief Executive Officer. Sarah has also served as Chief Counsel of the University of Pennsylvania Health System, a multi-facility academic medical care provider, and as General Counsel of the Children's National Medical Center. Prior to her general counsel positions, Sarah was a partner in the Washington, D.C. law firm of Williams & Connolly where she litigated complex criminal and civil cases, including a number of pro bono matters.
Sarah is a cum laude graduate of the University of Pennsylvania Law School, where she was Articles Editor of the law review, winner of the David Amram prize for civil procedure, and an editorial assistant to Professor George Haskins, author of the second volume of the Holmes Devise History of the United States Supreme Court. Sarah's undergraduate degree is from Smith College where she received an A.B. magna cum laude with highest honors in government and high honors in economics and was a member of Phi Beta Kappa. After law school, she served as a law clerk to the Honorable Spottswood W. Robinson, III, the Chief Judge of the United States Court of Appeals for the District of Columbia Circuit.
At CUA Sarah teaches primarily in the areas of corporate and constitutional law. From time to time she also teaches professional responsibility and civil rights. She has taught a number of continuing legal education courses and in-house and client seminars on managing complex civil litigation, managing crises, and dealing with corporate criminal investigations. Sarah has provided legal consulting advice to several health care and other corporate clients and has participated in a number of community service organizations, particularly work with education and small business initiatives in Honduras. Sarah has published numerous articles in the areas of the role and professional responsibility of corporate counsel, corporate law and responsibility, and constitutional law. Sarah is also an Episcopal priest with a Master of Divinity with honors from Wesley Theological Seminary. She serves as assistant rector (part-time) of St. John's Episcopal Church-Georgetown Parish in Washington, D.C., and she is a member of the Constitutions and Canons Committee of the Episcopal Diocese of Washington.
Sarah is married to Kirk Renaud. Sarah and Kirk have two sons, Alexander and Bryant, and a dog named Jesse.