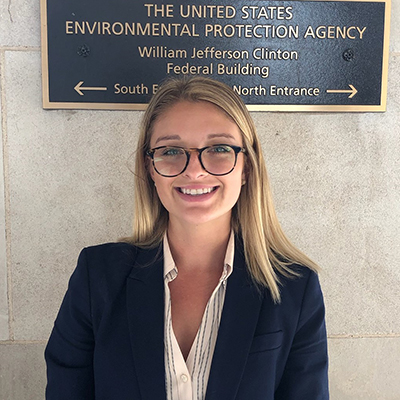 This past summer I interned at the Environmental Protection Agency (EPA) in the Office of Enforcement and Compliance Assurance (OECA) working on the Comprehensive Environmental Response, Compensation, and Liability Act (CERCLA). I began with this department in the Spring of my 2L year and, because of the outstanding semester I spent with them, I continued into the summer. Along with the internship, the program brings in mentors from other departments to teach the interns about other branches of OECA. This gave me even more opportunity to learn and expand my knowledge.
CERCLA is the EPA's compliance branch, which makes agreements with companies that have released hazardous waste, requiring them to remediate the harm and often pay fines. CERCLA is an extremely powerful tool for the EPA and combines my interests of compliance with environmental law. Focusing upon one specific statute, as I did here, gave me an in-depth understanding that likely would not be gained by just studying it in a classroom setting. The addition of the mentors from other departments added even more to this program by teaching more broadly about those statutes. While this is not as much of a dive into the information, it helped me to understand more about OECA's role as a whole.
Without this scholarship, I would be unable to pursue an unpaid opportunity in the public interest sector. With this, I was able to work full-time at a governmental agency, learning about the environmental field in a real-world situation. The spring and summer not only made me committed to the environmental work, but also committed to trying to return to that exact position later in my career. I believe the experience I had here will continue to help me in the environmental field in the future. Prior to that, I will be continuing with my public interest work as a law clerk in Montgomery County Circuit Court.