October 20, 2023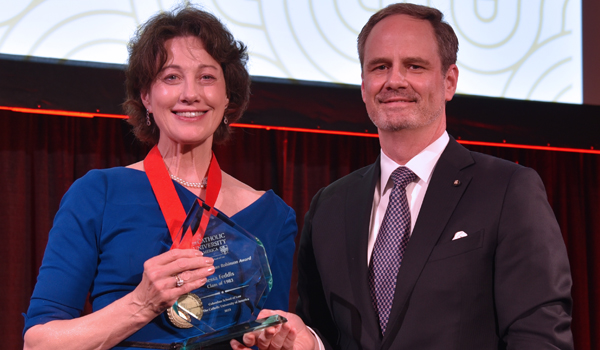 Shortly after graduating from The Catholic University of America's Law School, Nessa Feddis, J.D. 1983, joined the American Bankers Association (ABA) as counsel in its government relations department. It was Professor Ralph Rohner who first pointed Feddis toward ABA when he inquired whether she would be interested in a position that involved payments systems and consumer finance laws. She had taken his Uniform Commercial Code and consumer credit courses and found the topics came more naturally to her than some of the others.
Feddis said,"Ralph's easy, matter-of-fact, humorous manner made absorbing, understanding, and remembering the subjects easy."
He passed her resume and his recommendation on to the trade association. She did not expect then that she would still be there in 2023, winding down decades there. (Rohner, who was to be a dear lifelong friend and mentor, considered Feddis one of his more enduring career placement success stories.)
Initially, Feddis was the only lawyer at ABA who managed a growing slew of payment and consumer finance laws. noting, "It was a bit daunting, but willing assistance from people like Ralph Rohner, who always promptly returned calls, and other generous people from some of the best and most respected financial law firms, offered firm footing."
She was also one of just two female lawyers at a time when female lawyers were still somewhat of a novelty, especially in the banking industry.
"No question, there were challenges at times, but I also got tremendous support and encouragement from other lawyers, especially those on the Consumer Financial Services Committee of the American Bar Association, who got me involved in that organization. They helped me to expand my legal knowledge, develop other skills, and build confidence. Many are close friends. I hope I have helped other young lawyers in some similar fashion," Feddis said.
One of six daughters of Irish immigrants, she grew up in western Maryland where her parents had settled because, at the time, Maryland was one of only a few states to allow foreign doctors to practice. Her father, an orthopedic surgeon, was somewhat skeptical of lawyers but thought it a good fit for Feddis given her well demonstrated lack of inhibition in arguing.
Feddis graduated from Trinity College (now Trinity Washington University) with a major in English, which she has found to be a plus in her career, not only because of the writing skills demanded, but also as inspiration for inserting literary characters and references to enliven otherwise dry legal topics. 
Catholic University was a happy choice for law school. It was both a familiar face, being right across the street from Trinity College, and a perfect fit for Feddis, combining excellence in teaching with a friendly, supportive atmosphere that helped soften the rigors of law school.
"While students worked and studied hard, we still found time for other activities that not only were fun distractions but created lifelong bonds," Feddis said. "Professors were also supportive and encouraging, understood the inevitable angst, and took pleasure in students' inquisitiveness and success."
At ABA, she had to learn not only the technicalities of consumer finance law, but also the business of banking, to understand how the laws function as a practical matter, noting, "What sounds easy and reasonable in law, is not always easy and reasonable in practice."
She gained industry-wide recognition as a leading expert with respect to a broad array of consumer banking laws and was elected as a fellow to the American College of Consumer Financial Service Lawyers where she served as president from 2011 to 2013.
Her area of law has also led her to become involved in payment systems and their evolution. This naturally has involved fraud prevention, which includes not only working with banks but other nonprofits and governmental agencies.
Her position at ABA has not followed a typical legal career; much of her position involves applying legal theories and laws, but it has taken on different forms, changing with the times, and to some degree, the political landscape. It often involves soliciting and understanding banks' views on regulatory and legislative proposals to inform Congress and regulatory agencies. Engaging in the legislative and regulatory processes has given Feddis a great appreciation of the intricate roles of the government branches.
Feddis has also been thrown into the thick of media relations, mostly during the difficult years of the global financial crisis, representing ABA and the banking industry in numerous TV, often live broadcast, and other media venues, where she has had to learn to capture business and legal concepts in short, non-legalese sound bites and think on her feet. This has involved not only phone interviews with reporters, but also, with little notice, getting in front of a camera to appear on major networks, sometimes several in a single afternoon.
She has applied both her regulatory knowledge and training in translating legal text to the development of compliance resources for member banks, most of which are small institutions with limited resources. Going to part-time work at the end of 2023, she will focus on the development of new compliance courses using new learning technology and theories.
Working at a trade association has meant that, while there have been moments of intense labor, there generally has been a good life and work balance that has allowed her to pursue her personal interests such as sports, especially skiing and rowing, and travel, including return trips to Ireland. Feddis looks forward to spending more on those interests, as well as more recent pursuits such as gardening.
She has been married for 23 years to Nicholas Kingsland, who shares those sports, travel, and gardening interests. They split their time between their apartment in Washington, D.C., and their home in rural Virginia overlooking the Shenandoah National Park.
For people who are just starting out their law career, her advice is, "There are lots of new, intriguing, and useful technologies to help in law practice endeavors, but they should be approached with awareness of their limitations and potential pitfalls. It is important to focus on developing and nurturing your own practical experience, imagination, and creativity."