October 16, 2023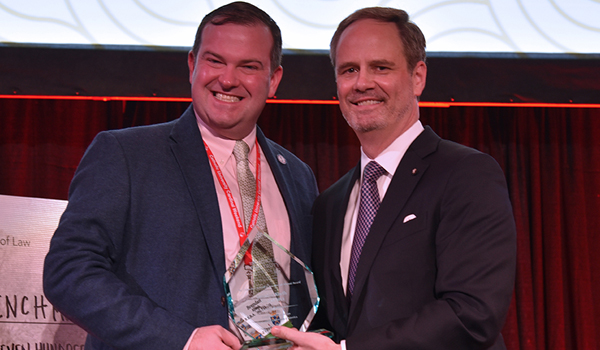 Brendan Koeth, B.S.B.A. 2008, J.D. 2013, was born and raised in Staten Island, New York. He majored in international economics and finance at The Catholic University of America. After graduation, Koeth started working for Thomson Reuters' Business Law product, where he was first introduced to the world of transactional law.
He decided to return to Catholic University for law school to take advantage of the evening division and the Securities Law Program. From his time in the Securities Law Program, becoming involved in the Securities Law Student Association, Securities Law Moot Court and International Business and Trade Summer Law Program in Krakow, Poland, Koeth developed a close relationship with Professor David Lipton.
Through his time spent with the Securities Law Program and introductions made by Professor Lipton, Koeth was hired as a summer associate at the former law firm of Dow Lohnes PLLC, continuing to work there during the day during his last semester at Catholic Law and beginning as a full time associate just two days after taking the February bar exam. While he was a first year associate, Dow Lohnes merged with Cooley LLP. Koeth spent time in both the Washington, D.C., and New York offices. In 2020 Brendan moved to the tech group at Lowenstein Sandler LLP and was made partner at the firm in January 2023.
Koeth's practice focuses on mergers and acquisitions, securities regulation compliance, and private securities offerings in the fintech, social media, technology, media, telecommunications, and life sciences industries.
Counseling clients on both the buy and sell side and throughout all stages of their companies' life cycles, Koeth works with startups as well as venture capital, growth, and private equity funds. He represents public and private companies, including strategic investors and their portfolio companies, in complex and diverse M&A transactions, private equity investments, minority investments, leveraged buyouts, carve‐outs, corporate restructurings, and other general corporate matters. He also advises emerging companies, private equity sponsors, and their portfolio companies on corporate governance and general legal matters.
Since graduating from the law school, Brendan has hosted annual Securities Law Program alumni events, mentored countless law students on their career path, and become an active member of the Alumni Council.