October 17, 2023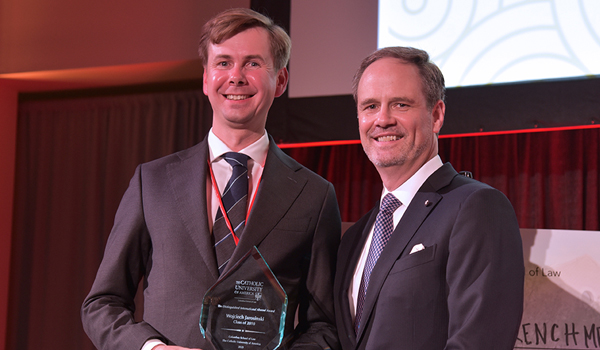 Wojciech Jarosiński, LL.M. 2010, is an advocate admitted to the Warsaw Bar (Poland). Jarosiński specializes in dispute resolution and contract negotiations. He has led or supervised litigations, the aggregated value of which exceeds a couple of billion USD. In addition to his litigation practice, he advises clients on the execution of their critical technology projects, whose value exceeds another couple billion USD, including key projects for the financial stability of Poland.
Jarosiński was named the top dispute resolution lawyer in Poland by Rzeczpospolita Daily, the most prestigious legal ranking in Poland, four times (2018 to 2021). The practice managed by Jarosiński was ranked in the top five of dispute resolution practices in Poland five times (2017 to 2019 and 2022 to 2023) by Rzeczpospolita Daily and was twice named the leading dispute resolution team (2020 and 2021).
Jarosiński also was featured in the Who's Who of Foreign Attorneys section of the National Jurist Fall 2019, a U.S. magazine, and Jarosiński is a recommended arbitrator of the Arbitration Court at the Polish Chamber of Commerce.
Jarosiński founded and managed the dispute resolution practice at Maruta Wachta law firm, and currently is a partner at Olesinski & Partners, which is one of the biggest Polish law firms.
In addition to his legal practice, Jarosiński supports the Andrzej Wróblewski Foundation, whose aim is to protect and promote the estate of one of the most prominent Polish painters. Jarosiński is the president of the Supervisor Board at Moje Państwo Foundation, a foundation supporting civil society through technology and litigation. Jarosiński also is a member of the prestigious Board of Visitors of the Columbus School of Law at The Catholic University of America.
Jarosiński also co-founded and successfully manages Expedition Cooperative, a collective of photographers documenting the human impact on the environment in polar regions. He is a fellow of the Royal Geographical Society.
Jarosiński completed his law degree at Jagiellonian University, received his LL.M. from The Catholic University of America Columbus School of Law, Washington, D.C., and joined the Warsaw Bar of Advocates.