April 06, 2023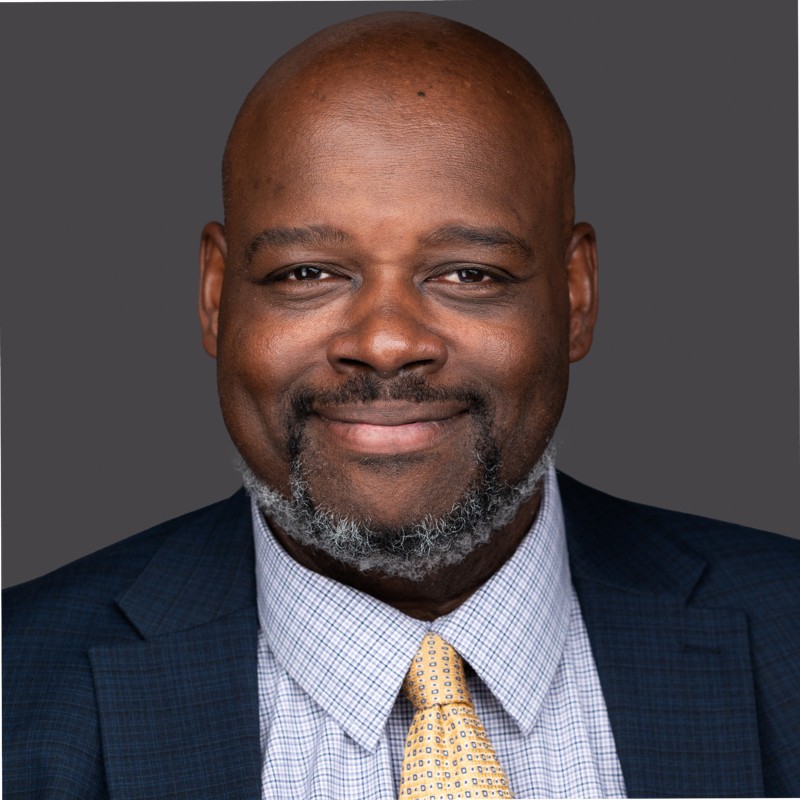 As a child, Jim Moye '99 spent countless nights watching his mother's beloved legal drama Perry Mason on television. The eponymous criminal defense lawyer fascinated young Moye. "He was always the smartest guy in the room," he reminisced. Needless to say, Moye charted his own path, bypassing a decades-long career in criminal law to specialize in the intersection of both domestic and international law in business. He does still share at least one personality trait with litigation-loving Perry Mason though: He loves a challenge.
Challenge has followed Moye his entire life. Raised in rural East Texas by parents who greatly valued education, Moye learned at a young age the importance of accomplishing whatever he felt allowed him to succeed. This attitude he inherited from his mother, who always pushed her son to reach for the stars. "If you do your best at all things, betting on yourself isn't as risky as it would seem," Moye commented during an interview with Catholic Law, recalling the example that his mother set for him. "But you don't just bet on yourself willy-nilly: you need to do the work," he added.
During his adolescence, his parents held no monopoly on emphasizing ambition and perseverance. During the same years when he was watching Perry Mason with his mother, one of his aunts decided to pursue a law degree, going so far as to enter law school. For Moye, this caused an epiphany. The world to which he had long been exposed through Perry Mason no more remained only a facet of a fictional universe. Witnessing a family member successfully studying the law, Moye realized that all the skills which made his favorite fictional criminal defense lawyer the unquestionably most intelligent character in the drama's courtroom were attainable and within his reach.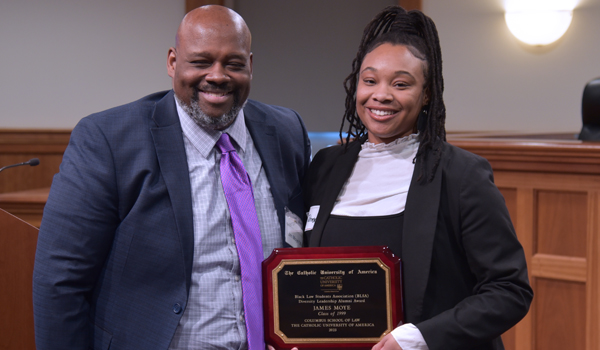 Resolute to obtain these skills, Moye approached applying to law school with an intense fervor. Practicing the law, however, was never his initial motivating factor. His desire was to become a political consultant, and from his view the ideal environment for immersing himself in that world was Washington, D.C. Knowing that he wished to study in the nation's capital, he made the trek to the District the spring of 1996, in the process visiting what would become his alma mater, The Catholic University of America Columbus School of Law (Catholic Law). To Moye, Catholic Law appeared distinct—but not for its academic excellence or its successful career placement rate. It was George Braxton, then Assistant Dean of Admissions, who was Catholic Law's tour de force. While visiting Catholic Law, Moye met with Braxton, to learn more about the school's offerings. During what became a two-hour-long conversation, Moye was struck by what he saw as Braxton's warmth and approachability. Carrying with him an overall supportive attitude that manifested itself through an acute emphasis on personal focus, Braxton shined as the Law School's true cheerleader, one who greatly influenced Moye's decision-making process and ultimately brought him to Catholic Law the fall of that year.
Once at Catholic Law, Moye abandoned his consulting aspirations, instead falling in love—with litigation. "Litigation felt natural to me, because I love to talk and I love a challenge," he said while discussing his years as a law student. "It felt exciting to me."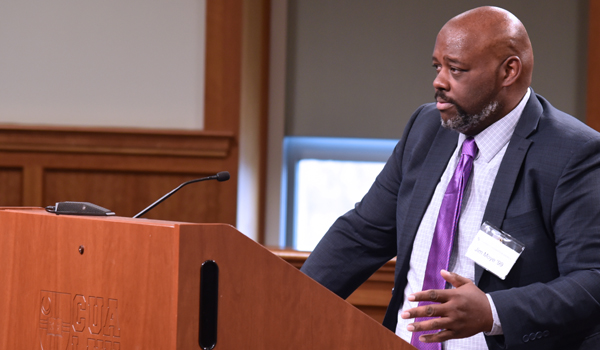 What invigorated him most was a criminal law class taught by Professor Leroy D. Clark. "That really got the juices flowing," Moye exclaimed calmly, in his voice a tinge of excitement. "I could see myself on both sides of the spectrum." In Moye's view Clark, who died in 2019, taught him the right way to practice law. Notwithstanding that, Clark's class was no cakewalk. Thus, recalling how his parents had always encouraged him to do his best, Moye sought to achieve that goal by turning to a familiar friend—the television. "Law & Order got me through criminal law all of my first year," he noted, laughing—and adding that that did not lessen his love for Perry Mason.
Although he holds overwhelmingly positive views of both Braxton and Clark, Moye is not bashful about admitting that it was Professor George P. Smith II who had the most powerful effect on him. "George Smith really taught me the value of writing," he said. "He took me under his wing and really showed me how this could help me in my career." If Moye's parents had always urged him to be ambitious, and if Braxton and Clark had always nurtured his ambitions, then Smith used legal writing to bolster those ambitions. "I had already been published three times before I graduated!" Moye remembered. "I directly attribute that to Professor Smith."
Catholic Law allowed Moye to pursue what he loved: a challenge. And, while he thrived when challenged in the classroom by Braxton or Smith or other faculty members, he considers the most rewarding challenge his classmates' breadth of knowledge: "We could intellectually joust with each other, and it was okay." To experience such a diversity of viewpoints was eye-opening. To this day, this extracurricular experience—this exchange of ideas, occurring outside the classroom—remains the most enlightening one of his law school career. To some extent, it contributes to his strong belief in the merits of a legal education. "The reason law school is better than any other graduate or professional degree is that it hones on skills," he commented. "This mode of thinking can apply to anything."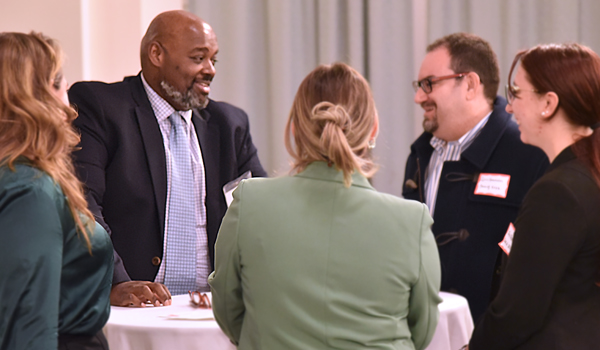 Now Senior Vice President and Senior Counsel at the American Bankers Association (ABA), Moye looks back at his time at Catholic Law and treasures it fondly, noting the almost impenetrable bond that the Catholic Law connection forges. He even says that he witnesses it on a daily basis. When he arrived at ABA in 2021, he encountered two Catholic Law alumni already employed as longtime members of the ABA staff; and, in the two years during which he has worked there, his fellow alumni have helped him immensely. This he attributes to the supportive community that his alma mater builds across generations—something that he says "runs deep, even when you don't anticipate it to."
A member of Catholic Law's Board of Visitors alongside fellow alumnus (and former Pittsburgh Pirates president) Frank Coonelly '86, Moye maintains strong support for Coonelly's dictum, "Always keep your eye open for opportunities you might not think are right for you." That being said, Moye has his own set of maxims which he uses to advise young lawyers and law school students. Self-knowledge, flexibility, preparedness, and a willingness to bet on oneself—those are his cardinal virtues. "If you don't define yourself, people will define you," he began. Quoting a notorious cultural icon, he continued: "Like Mike Tyson famously said, 'Every boxer has a plan until they get hit.' You've got to be in a constant state of readiness, and you've got to bet on yourself—they all go hand in hand."
For those who criticize his maxims as fostering indecision, he has a simple response. "When you're young, you lack context; and when you have experience, you gain context," he said. "It's not being indecisive: it's that you need context to your dream."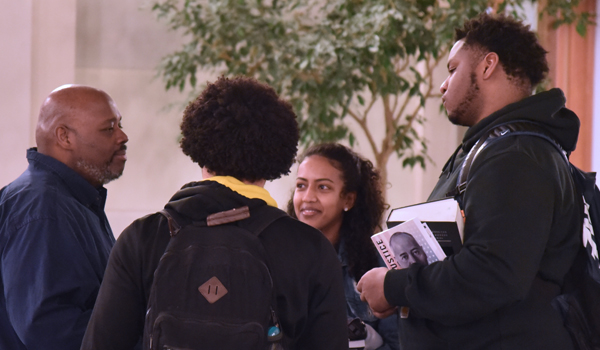 For Jim Moye, finding context for a dream is a challenge. As a boy, his dream was to be like Perry Mason. With the help of his parents, his aunt, George Braxton, Leroy D. Clark, George P. Smith II, and numerous other faces associated with Catholic Law, he gained context for that dream. Now, as an involved Catholic Law alumnus, he mentors current students, helping them find context for their own dreams. That is a challenge in its own right, but to him it is a worthy one—because now it is his turn to nurture in others that love of a challenge.