September 22, 2023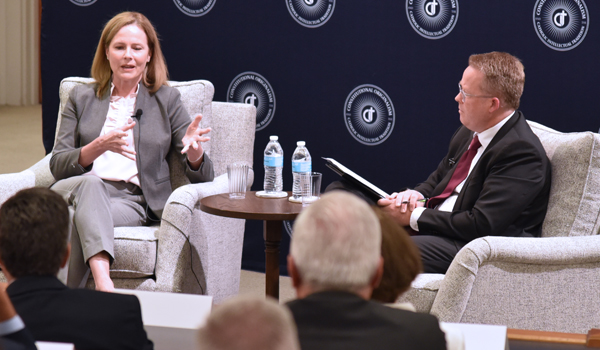 On Thursday, September 21, the Project on Constitutional Originalism and the Catholic Intellectual Tradition (CIT) at The Catholic University of America Columbus School of Law (Catholic Law) hosted Justice Amy Coney Barrett of the Supreme Court of the United States for a conversation that covered topics including constitutional originalism, the role of the Supreme Court, and the Catholic intellectual tradition.
Introduced by Catholic Law's dean Stephen C. Payne, the evening's discussion witnessed a packed William J. Byron, S.J. Auditorium, replete with students, staff, and faculty, as well as members of Catholic Law's alumni community and Board of Trustees. Following Payne's brief remarks and an invocation by the University's chaplain, the Rev. Aquinas Guilbeau, O.P., Justice Barrett engaged in a conversation with CIT co-director Kevin C. Walsh, Knights of Columbus Professor of Law and the Catholic Tradition.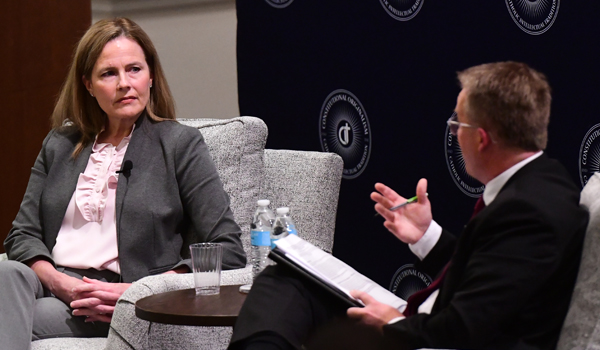 Justice Barrett, whose prior scholarship as a law professor at Notre Dame Law School included articles about constitutional originalism, addressed the relationship between her prior scholarly perspective on originalism as a theory and her current judicial perspective on originalism in constitutional adjudication. Justice Barrett's conversation with Walsh also touched on topics such as the relationship between originalism and tradition, the role of the Supreme Court, and the appropriate use of history in constitutional adjudication. She further explained why and when she chooses to write concurring opinions. At the conclusion of the conversation, Justice Barrett closed by praising Catholic schools for their commitment to broadening the areas of inquiry made available to their students, which prompted a round of applause from the more than two-hundred attendees. At a reception in the Louise H. Keelty and James Keelty, Jr., Atrium following the conversation, Justice Barrett spent significant time speaking with faculty, staff, and students.
Promoting scholarship that explores the relationship between the Catholic intellectual tradition and American constitutionalism, CIT focuses on that rich, deep tradition that includes the philosophical and theological accounts of law and politics of such figures as Saints Augustine and Thomas Aquinas. Specializing in the exposition of theories of constitutional law, its broad scope covers all areas of study to which the Catholic intellectual tradition is relevant—including constitutional history, doctrine, and jurisprudence.
Click here to view the program on CIT's YouTube channel.