February 22, 2023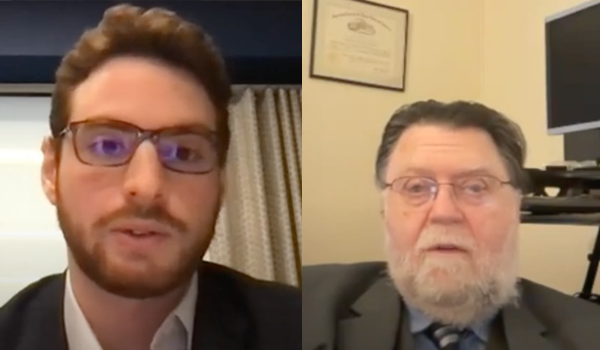 On February 21, 2023, the Catholic Law community joined together for the second presentation of the 2023 Student Scholars Series, given by third-year law student Mark Tocchio. Tocchio's work entitled, "Eychaner v. City of Chicago: Repercussions after The Supreme Court refuses to take up a Takings Clause Reconsideration," examines the vulnerability of property owners having their property taken away in urban and low-income areas. The Presentation respondent was Mark S. Bourbeau, Esq. of DTM, PC.
In July 2021, the U.S. Supreme Court denied cert. in Eychaner v. City of Chicago, an eminent domain case that presented the Court with an opportunity to address the controversial holding established in Kelo v. City of New London. Without reconsidering Kelo, and by failing to reject the "future blight" justification presented in Eychaner, the Court has made private property owners in urban and low-income areas vulnerable to the taking of property for the benefit of those with political power and deep pockets.
Mark Bourbeau's practice is concentrated in the representation of public and private clients in a variety of civil litigation matters, development issues, and consultation, with specific emphasis on the areas of real estate, eminent domain, environmental law, government relations and business litigation. Mr. Bourbeau is a cum laude graduate of Boston Law School. Prior to entering private practice in 1991, Mr. Bourbeau was the senior trial attorney in the Eminent Domain Division of the Office of the Massachusetts Attorney General. He subsequently served as a Special Assistant Attorney General representing the Massachusetts Highway Department (MHD) and its Central Artery/Tunnel Project (CA/T), the Department of Fisheries and Wildlife (DFW), and the Department of Environmental Management (DEM) (now the Department of Resource Conservation (DCR)).
The Student Scholars Series was founded in 2009 by Catholic Law Professor A.G. Harmon to recognize notable legal scholarship produced by members of the student body during the academic year and to foster the skills associated with presenting and defending that scholarship in a professional, conference-style setting.
Below is a recording of the February 21 program.