March 01, 2023
On February 10, the Catholic University Law Review helds it's 2023 Symposium, "Underinvested and Overburdened: Ensuring Environmental Equality for Historically Disadvantaged Communities," in the Walter A. Slowinski courtroom at The Catholic University of America Columbus School of Law (Catholic Law) in Washington, D.C. This year's symposium featured prominent academics, policy advocates, and individuals working and living within communities impacted by various environmental hazards. The speakers discussed environmental equality from a legal standpoint and what we as legal practitioners can do to reduce the disproportionate environmental burden on marginalized and disadvantaged groups domestically and globally.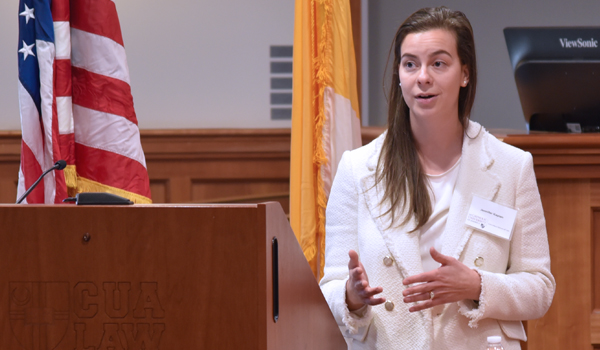 The Symposium opened with a welcome from Jennifer Kaplan, Editor-in-Chief, Catholic University Law Review Vol. 72, and Megan La Belle, Catholic University Law Review Faculty Advisor and Professor of Law, Catholic Law. A special thanks was given Rev Raymond C. O'Brien, Professor Emeritus, who helped secure the sponsors of the 2023 Law Review Symposium, Tenn and Tenn, Attorneys at Law, Manchester, NH (James J. Tenn, Jr. '91).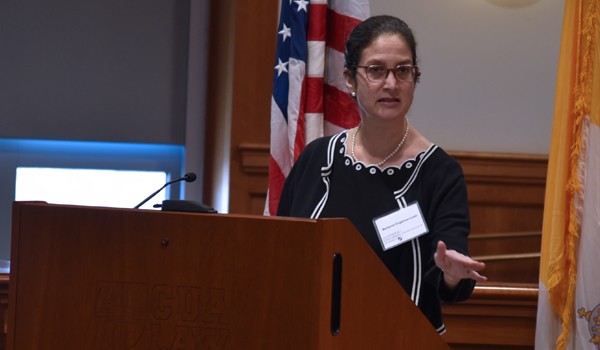 Cait Taub Gaines, Lead Articles Editor, Catholic University Law Review Vol. 72, followed and introduced the Symposium's keynote speaker, Marianne Engelman-Lado, Acting Principal Deputy Assistant Administrator, Office of Environmental Justice and External Civil Rights, United States Environmental Protection Agency. Following the Keynote speaker, the Symposium adjourned for a brief break.

Following the break the first panel opened with a discussion on domestic environmental inequality. Each panelist opened with a description of their current positions and why they were interested in the environmental law. The panel was moderated by Alexandra Dapolito Dunn '94, Partner, Baker Botts LLC, and Lecturer, Catholic Law. The other panelists included Taylor Lilley, Environmental Justice Staff Attorney, Chesapeake Bay Foundation; Julian Gonzalez '13, Senior Legislative Counsel, Earthjustice; and Mark Sabath, Senior Attorney, Southern Environmental Law Center. The panel wrapped-up their discussion and took questions from those in attendance. Click here to view the panel discussion on the CUA Law YouTube channel.

After another break, the second panel opened and discussed global environmental inequality. This panel was moderated by Álvaro Paúl, Visiting Assistant Professor of Law, Catholic Law, and Associate Law Professor, Pontificia Universidad Católica de Chile. The panelist opened with an overview of their careers and examples of global environmental inequality. The panelist on the second panel were Hana Heineken, Senior Attorney, Climate Financial Strategies, Center for International Environmental Law; Lucia Silecchia, Associate Dean of Faculty Research and Professor of Law, Catholic Law; and Elissa Torres-Soto, Staff Attorney, Environmental Law Institute. After the panel finished their discussion, they also took questions from the audience. Click on part 1 and part 2 to view the panel discussion on the CUA Law YouTube channel.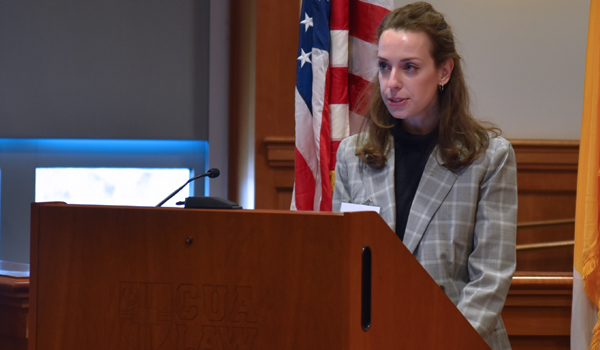 Following the second panel, Cait Taub Gaines introduced the president of the Environmental Law Society at Catholic Law, Grace Best (2L). Best spoke about the group and the various environmental law courses available at Catholic Law. Jennifer Kaplan and Cait Taub Gaines once again thanked those in attendance and asked everyone to join the Law Review staff in the atrium for a reception.