February 10, 2023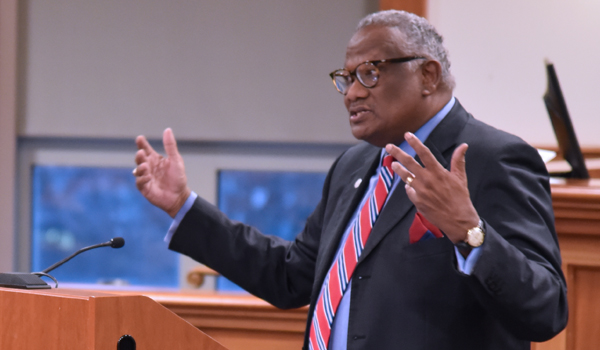 On the evening of February 9, the Black Law Student Mentoring and Leadership Program, Diversity Advisory Council, and Black Law Students Association held a lecture in the Walter A. Slowinski courtroom at The Catholic University of America Columbus School of Law in Washington, D.C. The lecture was part of the University's celebration of Black History Month. The evening opened with a welcome by Professor Veryl Miles, who introduced the speaker, Professor José F. Anderson. 
Anderson is a professor of law at the University of Baltimore and the author of Genius for Justice: Charles Hamilton Houston and the Reform of American Law. The students in attendance received copies of Anderson's book. Anderson's lecture focused on the career of Charles Hamilton Houston, who played a significant role in dismantling Jim Crow laws, especially attacking segregation in schools and racial housing covenants. Anderson also discussed Houston's involvement in training and mentoring a generation of black attorneys, including Justice Thurgood Marshall.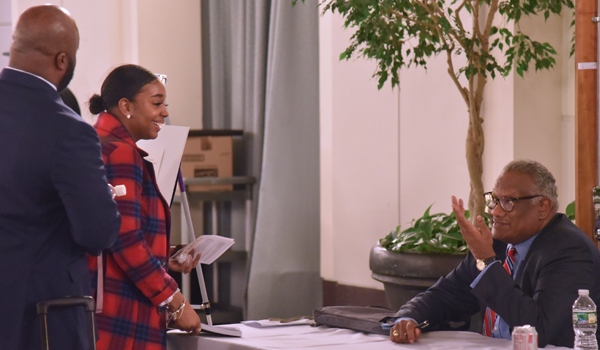 Following the lecture, Anderson took questions from the audience. The conversation then continued into the atrium during a reception with the students, alumni, faculty, and other guests. During the reception, Anderson took time to sign books and have one on one conversations.
---
About the book, Genius for Justice:
Dr. Charles Hamilton Houston was an outstanding Harvard-trained Supreme Court lawyer for the NAACP. As Dean of Howard University Law School, he mentored future Supreme Court Justice Thurgood Marshall. As architect of the Brown v. Board of Education case, he is often called the man who killed "Jim Crow." This unsung African-American hero also transformed American law in labor, criminal justice, and the First Amendment.
"Professor José Anderson has produced a wonderful biography of Charles Hamilton Houston, the pioneer in the fight for desegregating America and the mentor to Justice Thurgood Marshall. The book is a must-read for anyone interested in the history of the civil rights movement and in the quest for 'a more perfect Union.'"
—Richard L. Revesz, AnBryce Professor of Law and Dean Emeritus, New York University School of Law.
"Charles H. Houston was the most brilliant and courageous legal freedom fighter in 20th century America. His peerless intellect and matchless will to fight for justice set a high standard that even his more famous student, the great Thurgood Marshall, aspired to. This magisterial book lays bare the sheer genius and profound love of Black and vulnerable people that sit at the center of Houston's life. His prophetic Christian fire led to his early death, but we should never forget his gifts to Black freedom and American democracy!"
—Dr. Cornel West, Professor Emeritus, Princeton University