January 20, 2023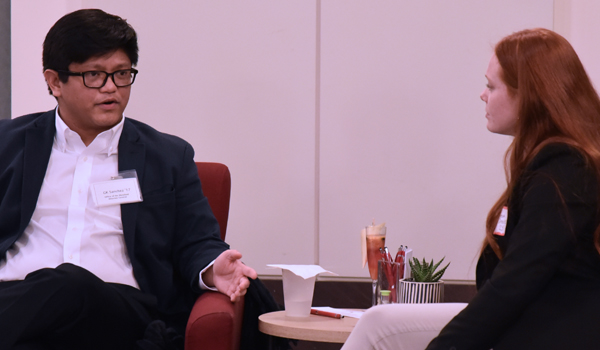 On Wednesday, January 18, The Catholic University of America Columbus School of Law's Office of Career and Professional Development, Student Bar Association, Office of Student Affairs, and Office of Development and Alumni Relations hosted a Student-Alumni Reception in the law school's atrium, with over 150 students and alumni in attendance. The "Mastering the Art of Networking" event not only offered opportunities for students to casually network with each other and with Catholic Law alumni, but also provided multiple structured stations for alumni to share insight and experiences with students and for students to practice important professional development skills.
Stations included table talks for six different legal practice areas and settings; a section for review of student LinkedIn profiles; speed networking discussions; and opportunities for students to practice and receive feedback on their 1-minute pitch. The week prior, many of the students attended a workshop on the importance and "how-to's" of networking, presented by Bryan Nese, Partner, Intellectual Property Group, Mayer Brown LLP, and also received guides detailing specifics on LinkedIn for Law Students, Answering the Tell Me About Yourself Prompt, and Networking and Informational Interviews.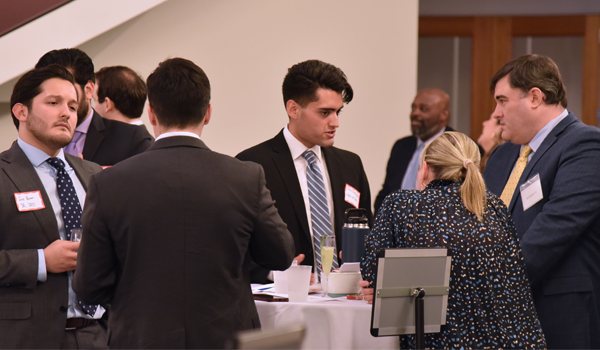 Julie Dietrich, Assistant Dean for Career and Professional Development, noted how such events are possible because of the supportive alumni network at Catholic Law. Any alumni interested in taking part in these or other future events, please reach out to OCPD at jobs@cua.edu.