January 11, 2023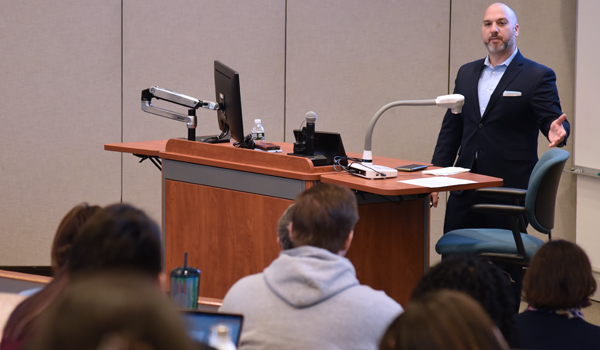 The Office of Career and Professional Development (OCPD) at The Catholic University of America Columbus School of Law (Catholic Law) held a discussion on January 10 about the importance of networking. The event was entitled "Planting and Preserving Your Network" and was presented by Bryan Nese, Partner, Intellectual Property Group, Mayer Brown LLP. Luis Hernandez (1L) welcomed everyone in attendance and introduced Bryan Nese.
Throughout the presentation, Nese shared various tips around the "How to's" of networking. Nese also stressed the importance of caring for and maintaining your network. Nese noted without putting in the time to do that, your network will never grow to its full potential, or in most cases simply never form.
On Wednesday, January 18, from 5:00 p.m. – 7:00 p.m., Catholic Law's OCPD will also be hosting a Student/Alumni Reception in the law school's atrium. The event will offer opportunities for students to network with Catholic Law alumni. Alumni will also be available at multiple stations for:
table talks on different legal practice areas and settings
LinkedIn profile assistance
speed networking
1 minute pitch practice
As this is a networking opportunity, business attire is requested. Registration closes on Monday, January 16, and previous attendance of the January 10 event is not required to attend this event.