November 26, 2022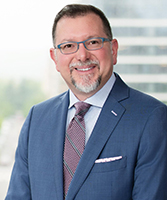 "There was never any question about my career. My father, an uncle, and an older brother were lawyers, and an older cousin was a judge. Having great admiration for those people, I knew my professional destiny from the time I was five years old." While Andrew Palmieri '87 has always planned for a career in the law, the journey —filled with challenges, rewards, disappointments, and thrills — has been beyond anything he had anticipated at age five. Now, as a recipient of the 2022 Columbus School of Law Distinguished Alumni Award, Palmieri took the opportunity to reflect on his time at Catholic Law and the career he has built since graduating.
Palmieri is the product of a family in search of the "American Dream." With three of his four grandparents having immigrated to the United States from Italy, his parents fulfilled those early dreams through hard work and education. "My father went to college and law school on the post-World War II G.I. Bill and my mother earned a master's degree in education and was a lifelong educator. They instilled in my older brothers and me the importance of hard work and education — anything less than your best effort was not enough."
Growing up in Queens, New York, Palmieri attended Catholic institutions throughout his childhood (a trend that ultimately lasted first grade through law school). It was an experience that, in hindsight, made a profound impact on him. "My high school, Archbishop Molloy in Briarwood Queens, New York, was most influential in directing my energies toward excellence in education and sports, but most importantly, service. Those guiding principles have governed my life ever since."
When it came time to finally choose a law school, Catholic Law seemed to be a natural fit — both because it offered a new challenge of leaving the comfort of home in Queens and because of the school's proximity to the nation's legal epicenter. "Having grown up in Queens, New York, and attending college at St. John's University in Queens, I recognized that I needed to expand my horizon, live in a new city, and pursue my own path. I had many options for law school in New York, but I craved new challenges and experiences." He continued, "With a love for history and politics, Washington, D.C., seemed the natural destination. I visited the campus with my brother Frank, met with administrators, and I knew that Catholic Law would be the right fit."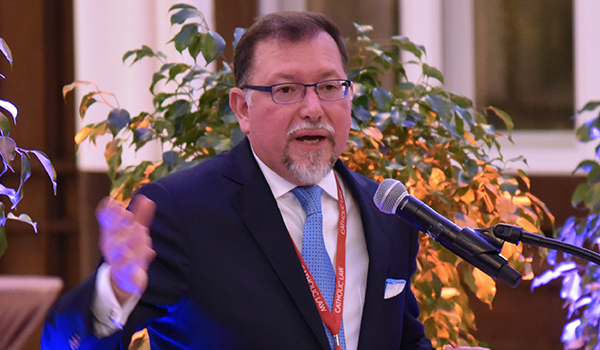 At Catholic, Palmieri quickly set out putting forth the "best effort" his family had grown to expect, making connections and taking advantage of opportunities on and off-campus. "I served as a research assistant for Professor Bill Fox, contributing to two of his publications. I have fond memories of meeting with Professor Fox — reviewing my work and discussing my career plans. He was a great mentor. And, of course, Professor George P. Smith, who, as my real estate professor, chastised me for missing an 8:00 a.m. class. He was a motivator for me and looking back at a career in real estate, he definitely had an influence." He added, "My reflections on my years at Catholic Law would not be complete without noting the collegial nature of the faculty, staff, and students. While many people might reflect poorly on their law school experience, I thoroughly enjoyed my time at Catholic Law, and I cherish the friendships that were forged in those years. The members of the Class of 1987 were a great group of people, and despite the rigors of class preparation, jobs, and extra-curricular activities, we had a lot of laughs along the way."
Palmieri also began carving out his future career path which, at the time, did not include real estate. With an undergraduate degree in accounting and a penchant for speaking, Palmieri initially aimed to become a white-collar criminal prosecutor. During his 1L summer, Palmieri served as a summer intern at the Manhattan District Attorney's Office — assigned specifically to the Office of the Special Narcotics Prosecutor for all of New York City. "This was an eye-opening experience that I thoroughly enjoyed, but I also concluded that I was more inclined to life in a board room over life in the courthouse." From that experience, Palmieri adjusted course, and for the remainder of his time in law school, he looked for experiences that were a better fit for him. He worked for the legal department of a venture capital firm, interned at the Securities and Exchange Commission, and worked for Professor Ellen Scully in Columbus Community Legal Services.
Palmieri's first job after graduation was in the commercial real estate group at a small Tysons Corner, Virginia-based firm, working with developers buying farmland along the Dulles Access Road. While he had not yet had much real estate experience, he felt that his background in business would serve him well. "From that point forward, I discovered my passion for deal-making. My guiding principle has always been to protect my client's interests while never losing sight of the importance of getting a deal done. And, of course, sometimes the best deal is the one that you passed on."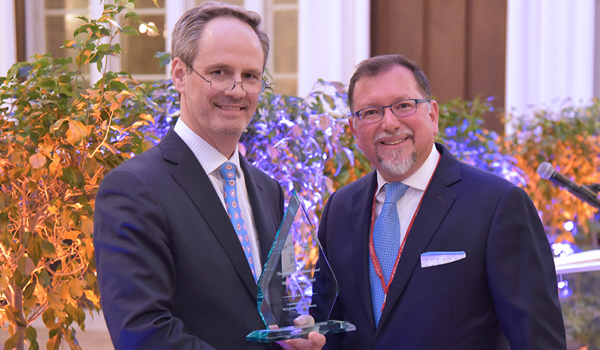 Palmieri continued working in small firms for the early part of his career, serving as managing partner of two of them into his 30s, before being recruited to "Big Law" and joining Vorys in their Alexandria office. After 11 years with Vorys, he moved to his current firm, Saul Ewing, which has a larger presence in the D.C. real estate market. Regarding his current work, Palmieri shared, "At Saul Ewing, I lead teams of lawyers in a national practice acquiring and financing multifamily housing and hospitality projects, as well as real estate diligence teams for renewable energy projects, including a natural gas power plant in Illinois, solar farms in Virginia, wind farms in Pennsylvania, and nuclear power facilities on both the east and west coast."
Beyond his day-to-day work, an integral part of Palmieri's career has been his commitment to the bar and his community (a commitment that harkens back to the value of service that he learned through his Catholic education). "From the early days of practicing law, I joined the American Bar Association, and more specifically, the Section of Real Property Trust and Estate Law, where I served in many capacities ranging from membership recruitment and development to continuing legal education programming, ultimately leading to my election as Section Chair, and Section Delegate to the ABA House of Delegates. My ABA service enabled me to qualify for a fellowship in the American College of Mortgage Attorneys, where I am now President-Elect. Again, at ACMA, I focused on member development, with an emphasis on diversity, equity, and inclusion initiatives, and continuing legal education programming — all issues around which I am building important initiatives."
Palmieri added, "Similarly, during my time with Vorys, I had the remarkable opportunity to both live and work in Alexandria, Virginia, so I decided to engage with my community in a meaningful way to make a difference. My path started on the Alexandria Waterfront Committee, now Commission, which I eventually chaired, and led to my recruitment to the Alexandria Chamber of Commerce to craft the business community's vision statement for redeveloping Alexandria's waterfront. Much of the vision statement is realized along Alexandria's vibrant waterfront today. After several years of Chamber service on government relations matters, I served as Chair of the Alexandria Chamber in 2012, and I am presently the Chamber's pro bono general counsel."
Palmieri has a passion and a demonstrated commitment to pro bono legal service, most particularly displayed through his 25+ year commitment to the Animal Welfare League of Alexandria, Virginia. And while Palmieri has a soft spot for animals, a significant aspect of his volunteerism relates to the transformative nature of education. "Access to quality education is critically important to quality of life and achieving the American Dream. I benefited greatly from my parents' access to public education, and I have great appreciation for the importance of a liberal arts education and an international worldview." Palmieri has backed this up through a combined three decades of non-profit Board service at The Campagna Center in Alexandria, Virginia, and The American University of Rome, in Italy.
Palmieri's career has been a rewarding one. He shared, "The most rewarding parts of my job come from working with a team of smart, dedicated people to achieve the business goals of our clients. There is great satisfaction in reaching a successful conclusion to months of hard work and the appreciation of clients for a job well done. As a direct by-product of this work, I also enjoy training and mentoring the younger members of our team in the nuances of commercial real estate and real estate finance, as well as the practice of law in general, and the importance of giving back to our communities."
But with such a busy schedule, Palmieri has found it challenging to do everything that he hopes to accomplish in a given day. Palmieri admitted that for much of his career he, like many lawyers, failed to find a good work/life balance. "In many respects, they both blended together because my bar and community service are an extension of my work and my personal interests." Palmieri also reported that expanding his family has helped him find a better balance in recent years. "I had the great privilege of marrying my wife, Denise, in October 2019, and through Denise, I added an instant family with my 11-year-old stepson, Logan. Soon thereafter, the pandemic began, and I learned much about sharing my space, my time, my interests, and my life on a micro-level with two new people. I have learned about family time and cooking for, and with, a family. This was truly life changing."
When asked if he had any advice for those just starting out in their law career, Palmieri said easily, "My advice is quite simple really. Find your passion and pursue it. If you have passion for what you do, you will never feel like you are working."