November 25, 2022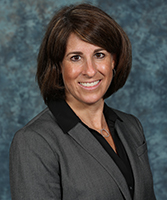 "I made a fairly uninformed decision to attend law school instead of business school, but it turned out to be one of the best decisions I ever made." A thirst for knowledge and an eye on advancing in her career is what set Columbus School of Law Distinguished Public Service Award recipient Andrea Vavonese '97 on a course from accountant to lawyer.
Originally from Long Island, New York, Vavonese and her sister were raised by their mom (a teacher and counselor) and dad (an entrepreneur), both of whom always emphasized the importance of education. During her undergraduate studies, Vavonese majored in Accounting at SUNY Geneseo. She also met her husband. After graduating, they moved from New York to the D.C. area, working first as an accountant for AMTRAK. "I was working as an accountant at AMTRAK and planned to pursue an MBA, but I noticed the leaders in the organization had law degrees." Vavonese decided to pivot and pursue her J.D. "Because I was attending law school with the goal of advancing my business career, I decided to attend as an evening student so I could keep my day job."
Though Catholic Law was not on her radar initially, Vavonese became interested in it after attending a law school fair. There, she met Father Raymond O'Brien who spoke so enthusiastically about the school and how Catholic Law welcomed a diverse body of students. "I was sold!"
After taking Evidence with the late Fred Bennett (who Vavonese fondly remembers as one of her favorite law professors), Vavonese became very interested in litigation. Instead of focusing on business like the leaders of AMTRAK, she decided to join a large D.C. firm's litigation practice after graduation. "Unbeknownst to me, one of the partners selected me to work with the government contracts team within the Litigation practice group, because he saw from my resume that I had experience with Federal Acquisition Regulations from my accounting days. That fateful decision led me to a long and rewarding career as a Government Contracts attorney, a specialty that I didn't even know existed at the time."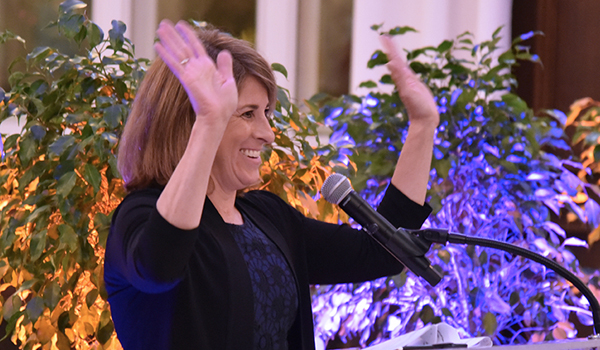 Following graduation, Vavonese sat for the Virginia Bar (since one can gain admission to the D.C. Bar without having to take the D.C. exam, many new attorneys like Vavonese take a different state bar and waive into D.C.). Because it is one of the more difficult exams, many others opted not to sit for it, and when Vavonese joined her firm, she was one of the only first-year attorneys admitted in Virginia. "Because I was one of the only young attorneys admitted to Virginia, I was asked to second chair trials that the firm had in Virginia. Before I knew it, I had more courtroom experience than many much more seasoned attorneys, including with jury trials. I even first chaired a government contracts bench trial as a second-year associate. We were close to settling the case before the trial started, but the judge would not give us an extension. The partner asked me to start the trial while he worked on the settlement out in the hall. The case never did settle, and I ended up trying the entire case by myself. Those days were incredibly exciting, and I learned so much very quickly."
After nearly a decade of litigation, Vavonese transitioned to a role in which she provided advice and counsel to clients doing business with the U.S. government, currently as Deputy General Counsel at Peraton. Vavonese has enjoyed helping clients solve complex and difficult problems. "Partnering with clients to help them solve complex problems has been the most rewarding part of my job. I really enjoy lending my legal expertise to help the company achieve its business objectives. The biggest challenge (in addition to the many complex and interesting legal issues themselves) can be to help clients understand the value of the legal function. Some think if a lawyer is involved, someone must have done something wrong, but we should not be brought in only when things go poorly. In fact, clients can avoid poor outcomes by partnering with an attorney upfront to help them understand and evaluate risk to make better decisions."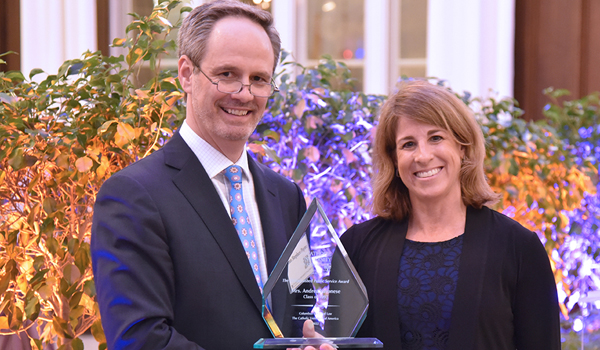 Vavonese has utilized her legal training to provide a voice to those who do not have one. She has spent the last 15 years advocating to ensure every child has a permanent, loving family. She currently serves as Chair-Elect of the National Council for Adoption (NCFA), a leading voice in adoption, where she advocates for and educates on issues such as adoption from foster care, protection of adoptees and parents in the adoption process, ensuring adoptions are more affordable and other important issues. Vavonese also fostered partnerships between NCFA and companies to provide access to employees to the wealth of adoption-related resources NCFA has available to all impacted by adoption — from birth parents to adopted individuals to adoptive parents to adoption professionals. She has led webinars to help people understand the adoption process and founded an adoption support group at her company. Vavonese has taken the legal skills she learned at Catholic Law to better the lives of children and those who choose adoption.
Of course, with a successful, rewarding career comes a lot of responsibilities and finding balance can be difficult. Vavonese noted, "Rarely if ever is there true "balance." There will be times when you can double down on work and other times when you need to concentrate on family and personal matters, including your own well-being, and those needs fluctuate, sometimes within the same week, but certainly over the years. Occasionally, if not often, both heat up at the same time, which can be very difficult. It took me many years to realize I was my own harshest critic when it came to balance. I now realize a career is a marathon, not a sprint, and if there are times in your life when your career or personal life cannot be what you hoped, there will be other times when you can re-engage and re-invent yourself. It is ok to pull back on one aspect of life to focus on another and that decision need not be permanent." She added, "I try to be flexible and adjust as needed, prioritize what is important, set reasonable expectations for myself, implement the support system and safeguards I need to enable success, and forgive myself when things don't go perfectly."
Reflecting on her trajectory in the legal field, Vavonese shared this advice for law students and young lawyers today, "A law degree teaches you a unique way to think about issues, and you can take that knowledge and apply it in so many different ways. You will find it is a skill that many others do not have and will rely on you for. There is not just one path for attorneys. Practicing lawyers can practice in so many different areas, some of which students may not yet be familiar with, and non-practicing lawyers will benefit from the education and training in their work in other areas."
Grateful for the career she's had thus far, Vavonese concluded, "I was a successful student at CUA because of my fellow classmates. They challenged me to be more prepared, study harder, and think more deeply, all while being supportive, collaborative, and friendly. We were all in it together, and I was inspired by that experience to bring that work ethic and cordial approach with me throughout my career."